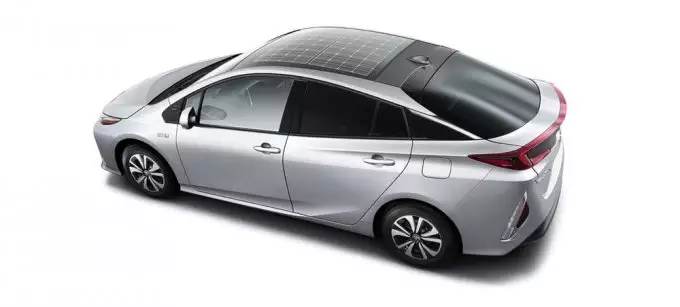 The fruitful collaboration of Toyota and Panasonic engineers allows know-how enthusiasts to enjoy various technological innovations. An interesting novelty was the sunroof for the updated Toyota Prius PHEV. It is a photovoltaic module that increased the power of a hybrid car's solar battery from 50 to 180 W. The technology was implemented in the previous model of this popular car, but in the original version the battery was much less powerful. It was used solely to power the air conditioning and ventilation systems, as well as to charge 12-volt batteries.
Updated solar roof – a real breakthrough in terms of power. It retains its performance properties even when exposed to high temperatures, which usually reduce the effectiveness of such systems. The presence of a battery allows the driver to enjoy the control of the car of the future longer, without wasting time recharging the batteries. Thus, the Prius hybrid is 10% more efficient than its previous version. Solar cells are embedded in a special polymer that covers the glass roof. The design solution did not pass crash tests in the United States, so the car is currently only available in Europe. The designers of Toyota concern are actively working on the problem to bring the car to the American market.
Today, the cost of the updated Prius has increased by almost 1.5 thousand dollars. At the same time, some options that were available in the previous configuration are not available in the restyled model. Panasonic is one of the largest players in the market of rechargeable batteries and alternative solutions for hybrid cars. Having created a new concern Gigafactory together with Tesla, the leadership of this giant plans to release a record number of lithium-ion batteries and other types of batteries.