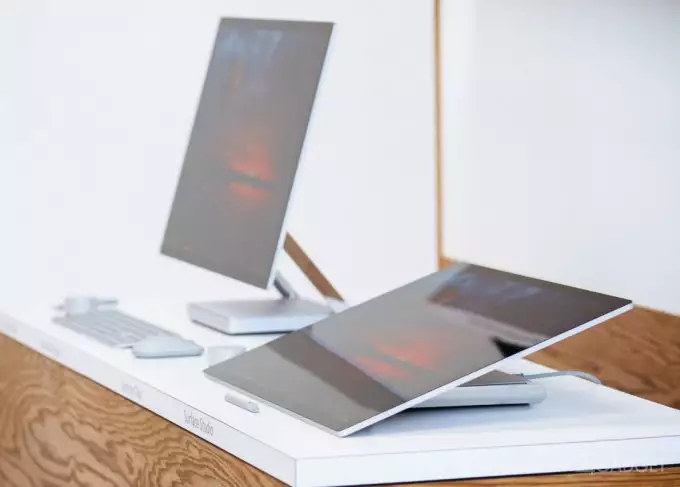 Microsoft has expanded its family of computers by adding its first all-in-one Surface Studio. The desktop PC is definitely aimed at competing with the Apple iMac and is focused, for the most part, on people with creative professions related to graphics.
The novelty is equipped with a 28-inch touch screen with an ultra-clear resolution of 4,500×3,000 pixels (aspect ratio 3: 2) – 63% more than 4K displays. The monitor provides output of the most accurate colors in an extended range thanks to the support of Adobe sRGB and DCI-P3, which, in turn, will facilitate the work of photographers, graphic designers, video editors and other users working with images.
According to the company, their LCD is \Its dimensions are 637.35 × 438.9 x 12.5 mm, and the position can be changed almost to horizontal, so that it is convenient to create, as on a professional graphics tablet.
As an accessory for the all-in-one, the complete Surface Pen stylus is also available, as well as the new round Dial touch controller that can be applied to the screen or placed on a table. The gadget makes it easy to work in graphic editors, helping to quickly apply the necessary settings, tools or actions. The item will be sold separately for $ 100. The introduction of Microsoft Demo Video More emphasis is placed on working with images and video:
At the heart of Microsoft Surface Studio is Intel Core i5 processor or i7, discrete graphics card NVIDIA GeForce GTX 965M 2GB GDDR5 or 980M 4GB GDDR5 8caa42f5a9df53968033bf99609e44f68caa42f5a9df53968033bf99609e44f68caa42f5a9df53968033bf99609e44f68caa42f5a9df53968033bf99609e44f68caa42f5a9df53968033bf99609e44f68caa42f5a9df53968033bf99609e44f68caa42f5a9df53968033bf99609e44f68caa42f5a9df53968033bf99609e44f68caa42f5a9df53968033bf99609e44f6