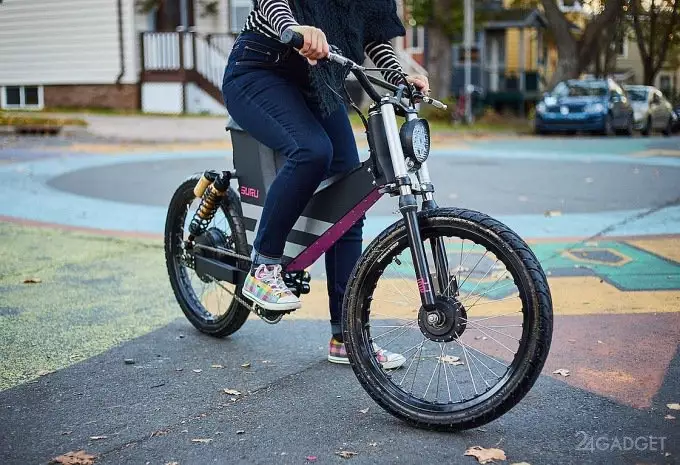 It is no secret that electric bicycles are associated mainly with urban models, which, however, are not designed for riding in really difficult conditions. However, Suru closed this gap in the market with its Scrambler electronic bike.
The manufacturer describes the Scrambler as a universal bike, and at the same time its design resembles a modern moped. This is not the first time Suru has entered the electric bike market. Last year, he introduced the S19 model, which formed the basis of Scrambler. Thus, it was reinforced enough to be used off-road and equipped with a wider steering wheel, 17-inch knobbly wheels, anodized gold shock absorber at the rear, telescopic front and pleated seat. The
Scrambler was manufactured in two versions – one for sale in Canada and one for buyers in the United States. The difference between them is in power (500 W and 750 W, respectively), which provides a maximum speed of 32 km / h, while batteries on board 816 Wh are enough to travel 70 km on roads and 40 km in more difficult terrain. It is not necessary to register it with the relevant authorities or obtain a driver's license.
The price of an electric bike is not yet known, but you can book it on the official website, leaving $ 250.
, newatlas.com