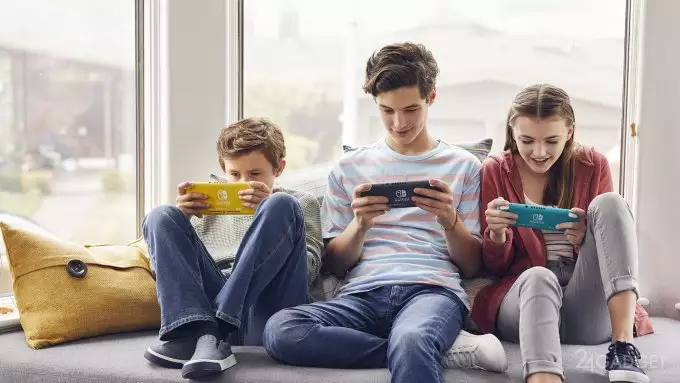 The new system has officially appeared in the Switch family. This is an absolutely portable miniature console model. Nintendo Switch Lite will appear in stores from September 20.
The novelty has lost a number of options. So, it does not support Nintendo Labo kits, it is deprived of an infrared camera and HD vibration. The screen has become smaller: the diagonal of the original version is 6.2 inches, while like the new 5.5 inches (resolution 1280 × 720 pixels). It is also now impossible to disconnect Joy-Con controllers. However, due to this, the manufacturer was able to provide a miniature Switch with a normal cross. The older version did not have this option. Another drawback of the novelty is that it cannot be connected to the original docking stations or TV.
An additional feature of the new items is the enhanced battery functionality, the capacity of which is 3570 mAh. The gadget can work up to 7 hours, but the total battery life depends on the running game. For example, with The Legend of Zelda: Breath of the Wild, the original Switch lasted about 3 hours. The miniature version should be enough for 4 hours. There is support for Wi-Fi, Bluetooth and NFC, the accelerometer / gyroscope remained in place.
Nintendo Switch Lite supports any manual Nintendo Switch games. True, difficulties will arise with projects like Super Mario Party or 1-2 Switch. After all, they require detachable joysticks. The new console costs $ 100 less than the original Nintendo Switch – $ 200. The system will be presented in three colors of the case: turquoise, gray and yellow. For Nintendo Switch Lite, they also provided a protective film and a special case. The dimensions of the device are 91.1 × 208 × 13.9 mm-28.4 mm.