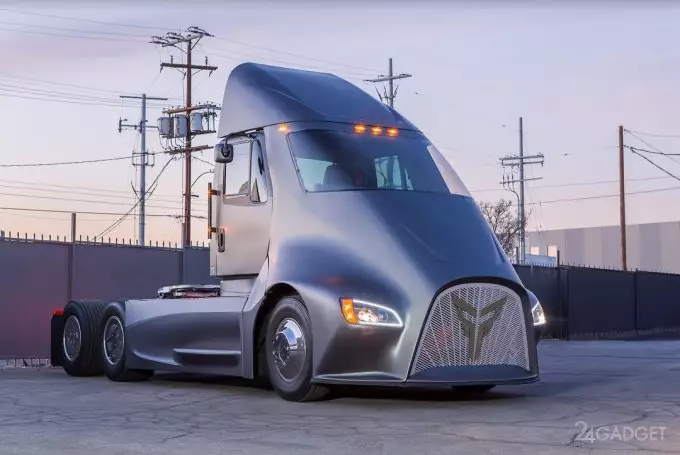 The excitement around the recently introduced Semi electric truck from Tesla, a world-famous company, is encouraging other manufacturers to announce their best practices. Such an approach often helps little-known and start-up firms to get more attention from the interested audience. Thor Trucks, a Los Angeles startup, decided to take advantage of this, having a future Semi competitor – the ET-One electric truck. The developers promise that the electric tractor with the original design will be available by 2019. It is currently proposed to test the prototype on a test drive.
For the basis of the ET-One, the developers took a truck with a diesel engine from Navistar. Instead of a diesel engine, Hydro-Quebec TM4 electric motors are installed, with a total capacity of 300 to 700 hp. (power varies by model). ET-One also has Dana reinforced bridges. The modular battery pack can expand to 1 MWh depending on customer requirements. The 36.3 tonnes of ET-One's payload are similar to the Tesla Semi's payload.
The cost of the basic version of the ET-One with a range of 160 km will be 150 thousand dollars. The most advanced model with a range of 480 km will cost the buyer $ 250 thousand. However, we note that the Tesla Semi with a range of 480 km is estimated at 150 thousand dollars, a model with a range of 800 km – 180 thousand dollars, and a top model costs 200 thousand dollars.
Startup Thor Trucks has not yet opened pre-orders. It is known that the founders of the project Dakota Semler and Giordano Sordoni are very young, both 25 years old. The project is financed by Semler enterprises, including real estate and winemaking companies owned by Dakota's parents. Both startup founders do not have a technical background, but the development team employs engineering personnel who previously worked at well-known car factories of Navistar, BYD and Faraday Future.
Thor Trucks startup is currently preparing for the release of the small ET-One truck series, scheduled for 2019. In addition, the possibility of transferring trucks of other models and sizes to electric traction is being studied.