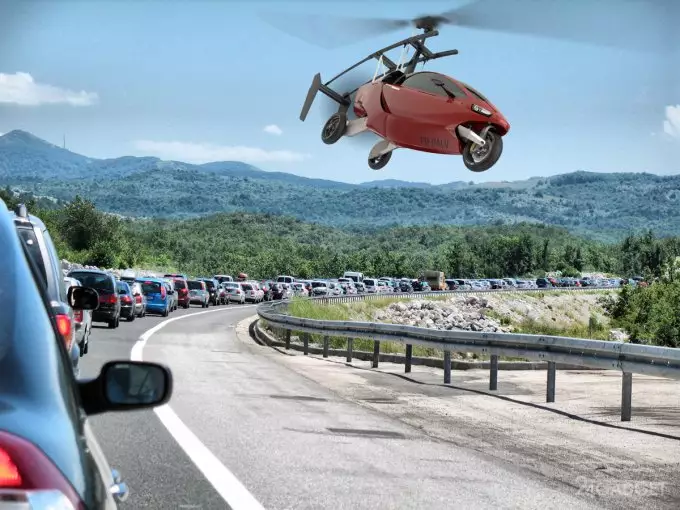 That's it – the Dutch company PAL-V announced the acceptance of pre-orders for the \The three-wheeled two-seater aircraft is a hybrid of a Carver helicopter and a three-wheeled car, it is equipped with folding blades and two Rotax engines, one of which is 100 hp. designed to move on the ground, the second (200 hp) – by air. On the road, PAL-V Liberty will be able to pick up speed up to 160 kilometers per hour (acceleration from 0 to 100 km / h will take 9 seconds), in the air – up to 180 kilometers per hour with a maximum height of 3,500 meters. The flight range on a full tank will be 500 km, which is quite good. The process of transforming from a car into an analogue of a helicopter or gyroplane takes about 10 minutes.
The dimensions of the PAL-V Liberty are 4 x 1.7 x 2 m (length x height x width in meters) in auto mode and 6.1 x 3.2 x 2 m in flight format, weight – 664 kg. An exclusive Liberty Pioneer version with a personalized rich interior and exterior finish is valued at $ 599,000 and will be delivered first to customers. Customers of the standard $ 399,000 Liberty Sport model will have to be patient and wait longer for their aircraft. In any case, future owners of a new type of transport before getting behind the wheel (or the helm?) Of the PAL-V Liberty, you need to get a driver's license and a flight license, as well as take special training courses that are included in the appendage to the purchase.
PAL-V promises to launch mass production of the aircraft this fall, and the first customers will be able to receive their order at the end of 2018.
, pal-v.com