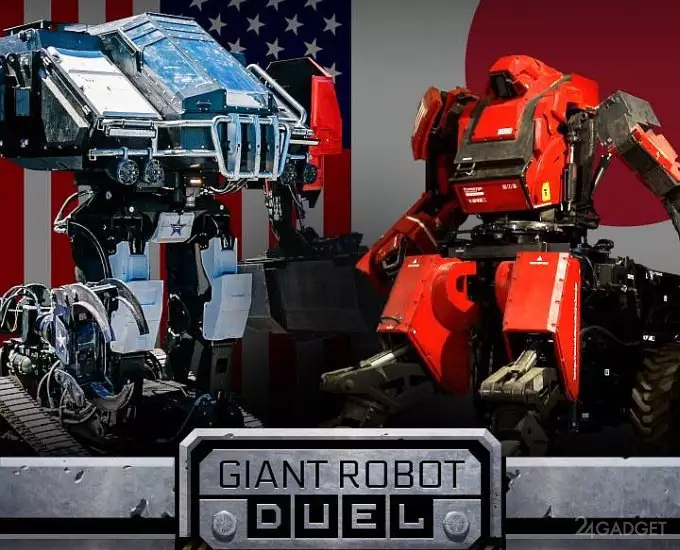 October 17 at 7:00 p.m. PST (6:00 Moscow time) on the website of the video streaming Twitch will show the duel of two giant humanoid robots from the United States and Japan. Robots lovers have been expecting this fight since July 2015.
That year, MegaBots Inc. completed the construction of the iron fighter Mark II with a height of 4.5 meters and a mass of 5440 kg. The combat robot was capable of throwing 1.3 kg of shells at a speed of 209 km per hour. At that time in the world there was only one worthy rival for the American robot – this is the \Naturally, engineers at MegaBots Inc. challenged the opponent to battle. Suidobashi Heavy Industry, the owner of KURATAS, agreed on condition of hand-to-hand combat as one of the stages of the duel.
Companies took a 2-year break to finalize and "train" their fighters. The place of the duel was chosen in Japan at an abandoned steel mill. MegaBots through Kickstarter was able to raise $ 500 thousand to improve the robot, which, after refinement, increased mobility and impact power.
Now the American has \MegaBots Mk. III \KURATAS weighing less – 13 feet and weighing "only" 6.5 tons. The fight will be broadcast in the recording. During the fight, which was held in complete secrecy, there are only development engineers from competing companies, former UFC and MMA host Mike Goldberg as a commentator, robotics expert Saura Naderi and a film crew.
There were no spectators, because the battle was not as exciting as in the Pacific Rim. Both giant robots are slow and slow, which is why the battle, divided into rounds, dragged on for several days. Between fights, the teams repaired and set up their wards, so the fights took place until the first knockout. Victory was awarded if the opponent fell or lost the ability to move. But in any case, watching the battle of the iron monsters will be curious, since the design of the updated Japanese fighter was kept in the background until the last, and the choice of weapons in each battle is different.