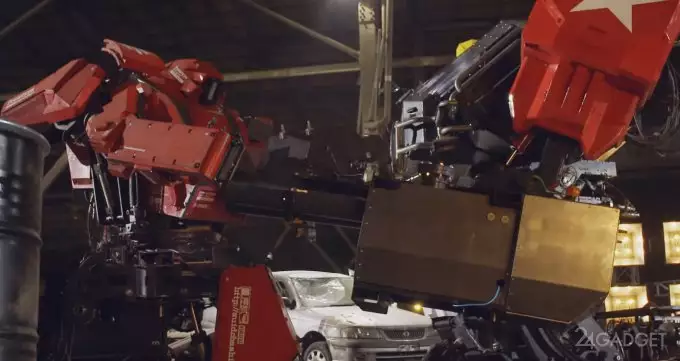 After two years of waiting, the audience finally saw a battle between two giant robots: the "American" MegaBots Mk. III "Eagle Prime", manufactured by MegaBots Inc., and "Japanese" KURATAS, "born" in the bowels of Suidobashi Heavy Industry. It should be recalled that MegaBots Mk. III has a higher growth (about 5 meters) and a weight of up to 12 tons, while a rival from Japan has a smaller growth (almost 4 meters) and weighs 6.5 tons.
Americans put two robots. The first – Mark II (Iron Glory), with a height of 4.5 meters and a mass of 5440 kg, was the prototype of the main fighter Mk. III \However, the old man could not resist the new KURATAS and was defeated in the first duel.
In the second fight, the American "Eagle Prime" almost "grabbed" the opponent's hand with a saw and received a well-deserved victory, obtained thanks to more impressive parameters.
Broadcast from a Japanese steel plant was recorded. Spectators were not allowed to fight. The battle in its dynamics and entertainment, of course, was inferior to the cinematic fights of robots. However, it must be remembered that these are real machines, not layouts in combination with computer graphics.