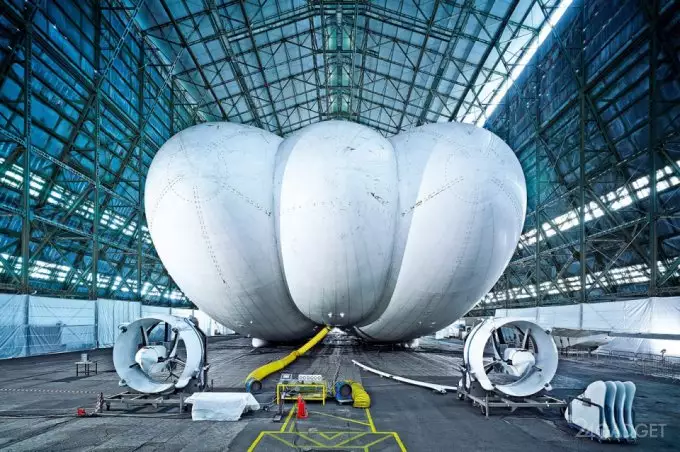 The British company Hybrid Air Vehicles has completed the final assembly of the giant airship Airlander 10, which is a hybrid vehicle that combines an air vehicle from the past and modern technology. Initially, the Airlander 10 was designed for the military needs of the United States, but for several reasons the project was frozen, and the fate of the airship hung in mid-air. In order not to lose groundwork, HAV decided to re-qualify the aircraft for civilian purposes.
The length of the Airlander 10 hull is about 92 meters, and it is 8 meters longer than the world's largest aircraft – the An-225 Mriya. The airship is capable of landing on various types of surfaces, including water. In the air, it can be without landing for five days. The maximum speed of movement is 150 km / h, the payload is 10 tons. The volume of the device is almost 38,000 cubic meters, almost as much uncompressed helium is required to lift an air ship into the air. Airlander 10 drives four V8 diesel engines. According to the developers, even if you make a hundred holes in the shell, it can continue to fly for 4-5 hours. Airlander 10 moves absolutely silently, environmentally friendly, does not pollute the environment and, according to Hybrid Air Vehicles, is a promising development for the air industry. The device can deliver goods to hard-to-reach areas, carry out sports broadcasts and police surveillance, as well as carry out the transportation of passengers for tourist and entertainment purposes.
This summer, HAV plans to conduct flight tests of its brainchild and find potential buyers for it. The approximate price of one aircraft is $ 40 million. So far, in the first test flight, Airlander 10 climbed a meter from the ground inside its hangar.