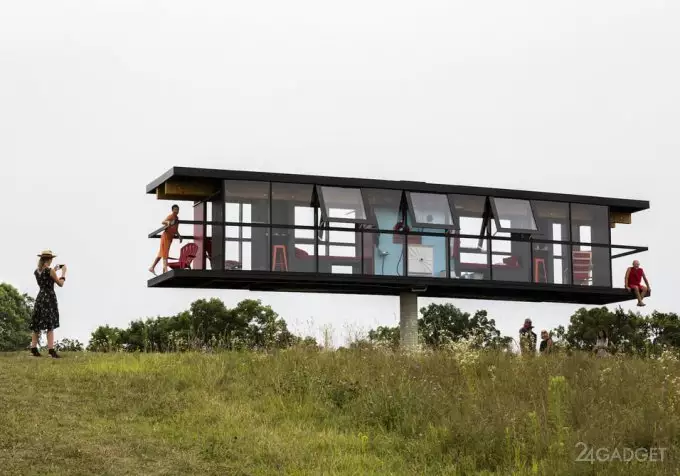 Where the architectural artists Alex Schweder and Ward Shelley borrowed the idea of creating a house on a single column is not specified. Their building of glass and metal can rotate 360 ° around its axis and tilt in different directions, which is very reminiscent of the modern interpretation of the hut of Baba Yaga from Russian folk tales.
A working ReActor concept installation of 14.5×2.5 meters in size is installed on a 4.5-meter column, on which it freely rotates and tilts. The movement of the house causes two factors – the strength of the wind and the movement of residents inside. At the same time, moving the house is gentle and does not cause discomfort. Schweder and Shelley lived in the house for 5 days and compared his movements with the swaying of the ship. Even at night they slept soundly.
Inside the house is symmetrically divided for two owners: each has a bedroom and a working area, a kitchen with a refrigerator and a gas stove, and a balcony. The only common room is a bathroom with shower and dry closet. How many guests the house-swing can accept and what is the period of its operation is unknown. The project was created as part of the Omi Architecture program and now ReActor can be seen by anyone who has visited the Omi International Center for the Arts in Ghent, New York.