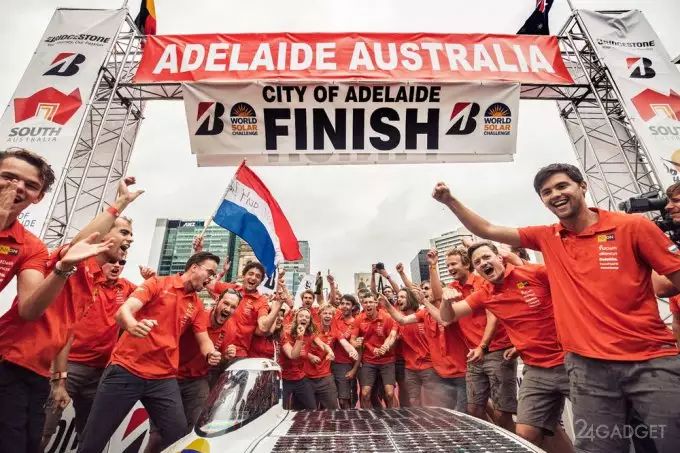 For the ninth time in the prestigious World Solar Challenge, only fully solar powered vehicles can participate. The technology race takes place between the largest universities in the world. In 2017, the team of Delft University of Technology from the Netherlands won by a wide margin. This is the seventh victory of the Dutch out of 10 held in the history of WSC competitions.
According to the conditions of the competition, the sun must cover more than 3 thousand kilometers from Darwin to Adelaide. The teams overcome the path through the hot Australia in 5 days. In teams of 4 people, one person will not be able to physically survive a car without an air conditioner for more than 4 hours. In total, 40 teams from 30 countries competed. The design of the car has certain limitations, for example, in the area of solar panels (up to 6 m2).
The Dutch team, driving the Nuna 9, came to the finish line first, leaving the rivals not a single chance. The closest rival, Novum University of Michigan's car, runner-up, was two hours behind (1 hour 59 minutes). The third came the Belgians in a Punch Two car with a delay of two and a half hours. The winner showed an average speed of 81.2 km / h on the highway. The team on Nuna 9 gradually increased its advantage: on the first day the Dutch were leading for only 8 minutes, for the third gap was 56 minutes, by the end of the fourth day the closest competitor was 59 minutes behind. The leader finished on October 12 at 14 hours 10 minutes and 41 seconds.
Nature this year significantly complicated the route. Cloudy weather, rain, the sky covered with clouds – all this affected the movement of cars, completely dependent on the energy of the Sun. However, advanced technology and the perseverance of enthusiasts have shown the potential of solar energy with competent design.