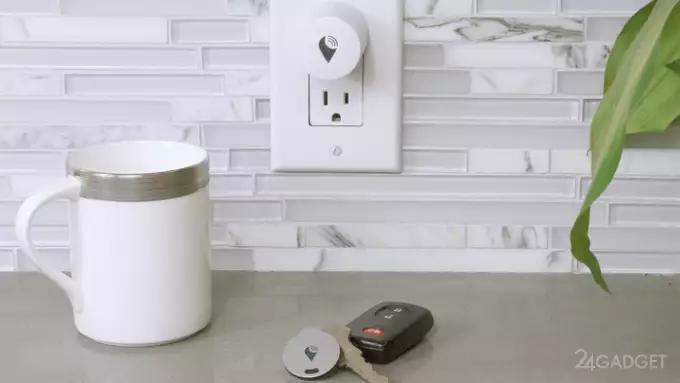 There is an opinion that it's time for certain items to be automatically equipped with search trackers with the provision of appropriate software. Such a system would greatly facilitate the search for lost things, for example, remote controls, wallets, bags, credit cards and other things. But, while this is quite costly, it's not known what exactly in a particular family will be lost more often – a child's favorite toy, car keys, a hammer, a live turtle or something else. Therefore, the TrackR atlas tracking system gives the user the right to "brand the loss" on his own, so as not to waste valuable time searching.
The device is a compact main unit that is plugged into an outlet, and directly a Bluetooth tracker that is worn on the subject. Using Wi-Fi, Bluetooth, or GPS, the module tracks the location of things (this can be not only items marked with a Bluetooth tag, but also a smartphone / tablet and other electronics with wireless interface adapters), and all information is reflected in the user's mobile application ( iOS and Android).
Unfortunately, there are also disadvantages. Due to the limited range of Bluetooth, the TrackR atlas can only be used in a limited space, such as an apartment or a house. The cost of one device with 1 tracker is $ 39. More sensors and trackers will cost more.