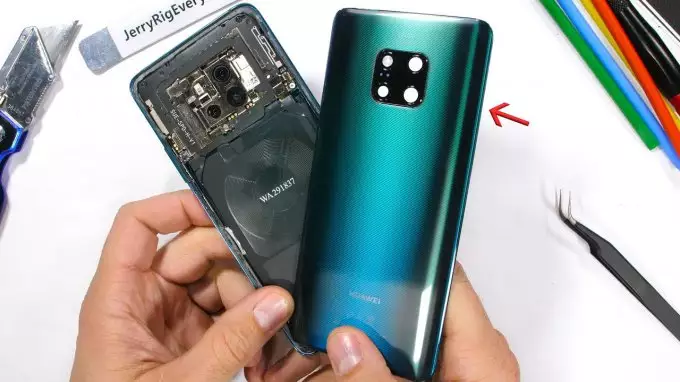 Like most smartphones, the Huawei Mate 20 Pro also got into the traditional dismantling of the blogger JerryRigEverything. The smartphone was disassembled without much difficulty.
After disconnecting the back panel, the video shows one of the most interesting elements of the smartphone: a triple rear camera, made in collaboration with Leica, located in one metal case. At this stage, it is confirmed that only an 8-megapixel sensor is the only one equipped with optical image stabilization. Interestingly, the on-screen fingerprint scanner used here is associated with the display. This means that it may be unusable or not repairable if for any reason it breaks.
Nelson says that Huawei did not use copper heat pipes. Not even a water-based heat pipe. Thermal grease and metal plates do the basic job of keeping the smartphone at a low temperature.
The analysis continues, focusing on the infrared LED integrated directly into the motherboard, the nanoSIM card slot and the battery capacity of 4,200 mAh. All elements can be accessed without serious difficulties. Interestingly, the lower speaker emits sound directly from the USB-C port. Theoretically, this is positive when the smartphone does not charge, but if you listen to music when the USB-C output is occupied by the charger, the sound will be distorted, as if it were leaving the bank.
JerryRigEverything did a test of durability. The smartphone passed the first two tests, but cracks appeared on the screen. The device did not pass the bending test. Due to the very small frames, it may not fit snugly.