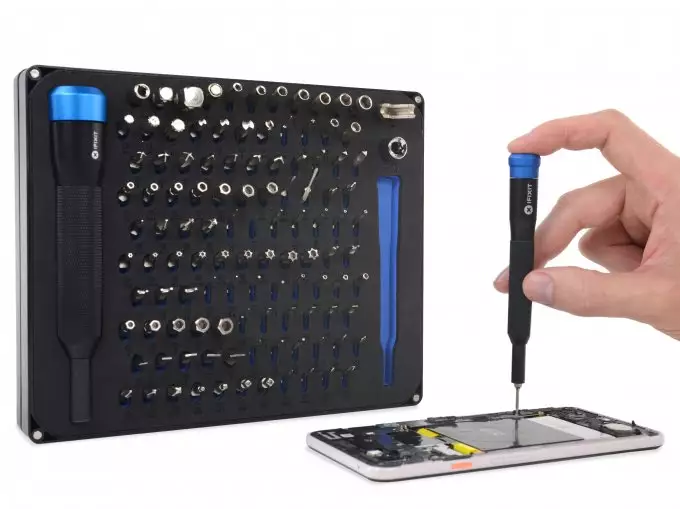 iFixit loves to learn about gadget design. The craftsmen got to the fresh Pixel 3 XL and Pixel 3 from Google. According to experts, the older model uses a 5.-inch OLED screen manufactured by Samsung. Last year, displays for the Pixel 2 XL were supplied by LG, but their quality was poor. The new controller has the same controller as in the Galaxy S9, however, the matrices are slightly different.
In terms of maintainability, the masters from iFixit gave only 4 points out of 10 on their own maintainability scale. Not much, of course, but quite comparable with other flagships of the current year. Only the new Phone 2018 is probably the best indicator.
It's all about the special rubber seals present in some of the Pixel 3 XL parts. Remove them and the smartphone will become unprotected from water. The device's rating and difficulties with access to the screen were also reduced – in any case, relative to last year's Pixel 2 XL. A lot of glue was inside. The manufacturer also used case panels made of glass, not metal. Damaging them is much simpler, and replacement is more expensive. By the way, during the dismantling period, repair experts still damaged one loop and speakers.
There are pluses. The device uses standard fasteners such as T3 Torx, and the built-in battery is removed easily thanks to a special elastic glue.
A discovery for specialists was the installation of the latest Sony IMX363 12.2MP sensor. This, together with Google's advanced algorithms, should provide a high level of quality for the created photos and videos, but whether this is so, we will learn later from the reviews of the first buyers and bloggers. Security chips SR3HX Titan M, as in the line of Pixel 2, is present in the new products.
Google Pixel 3, the younger brother, with the same flaws. So from iFixit he received the same rating – 4 out of 10. Although it turned out that the gadget's screen is still produced by the same Korean supplier LG Display.
, Pixel 3