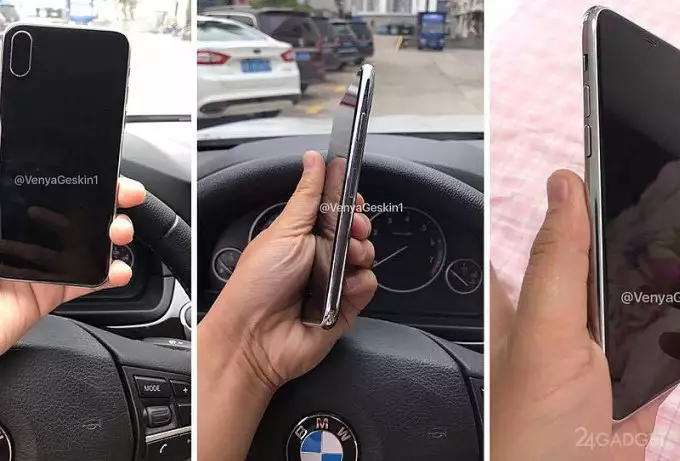 The photos of iPhone8 that appeared on the network provided a lot of information to afflicted fans of the \Appearance of the device is presented with a traditional elegant steel frame and glass back panel. In this case, the absence of a fingerprint scanner on the rear panel is visible, and the two main cameras are located vertically.
In view of the fact that the device is in the off state (there is even an assumption that this is an inoperative design layout), it is impossible to estimate the width of the frames on the display or even the lack thereof. A missing fingerprint scanner may indicate Apple's tendency to change its fingerprint technology from fingerprint recognition to face recognition or scanning the iris of the eye. At the same time, TouchID can be integrated into the display surface.
The device shown in the photos has obvious external similarities with previous models: a stainless steel frame and a rear glass panel sends us to the fourth iPhone, and the seemingly "thick" case with rounded corners reminds us of the iPhone 3GS. The photo shows a large power button. In addition, it is seen that the front panel is not entirely continuous – it has a slot for the speaker in the upper part of the prototype.
To publish the secret appearance of iPhone8, a user with Twitter nickname @ venyageskin1 (Benjamin Geskin), who has repeatedly revealed the secrets of new smartphone models, has traditionally had a hand in publishing. This time, Geskin claims that the data was obtained from an employee of the factory Foxconn, specializing in the production of smartphone cases. From the comments of Benjamin, we can conclude that the increased thickness of the model is apparent: the real thickness of the prototype has a traditional 7.1 mm. At the bottom of the smartphone, the Lightning jack is visible. The rear camera protrudes somewhat above the surface of the smartphone. In addition, according to the statement of the employee who "leaked" the photograph, the frame in the final version of the iPhone8 will most likely not be made of light stainless steel. Designers decided to use black glossy steel for the frame, reminiscent of the color of the case of smart watches Apple Watch.