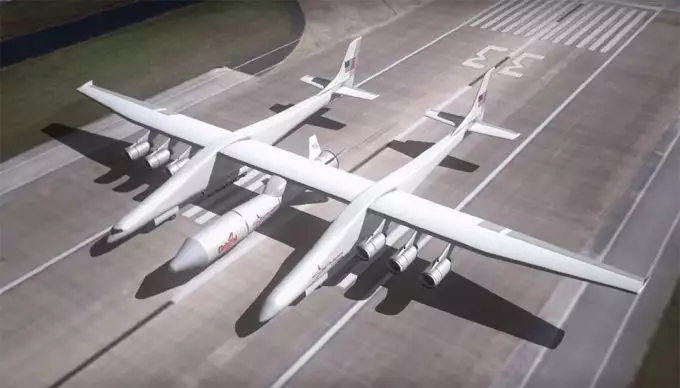 Back in 2011, one of the co-founders of Microsoft, Paul Allen, along with several partners (including Elon Musk) got the idea to create the world's largest aircraft. The main goal is not to write to the Guinness Book of Records, but to create an effective means of launching rockets into orbit. The aircraft was named Stratolaunch, and its creation has already started at the international aerospace port in Mojave, California.
The development is being carried out by the aerospace company Scaled Composites.
The aircraft has two fuselages, between which a rocket will be mounted, and an aircraft is created on the basis of two Boeing airliners. According to the drawings, Stratolaunch will use six jet engines and 28 chassis wheels. The wingspan will be 117 meters, and if you set the plane on a football field, they will protrude beyond the goal by 5 meters on each side. Stratolaunch will be almost 20 meters wider than the Hughes H-4 Hercules and 30 meters wider than the AN-225 Mriya. For takeoff, you need a strip of at least 3650 meters. Test flights are scheduled to begin next year.