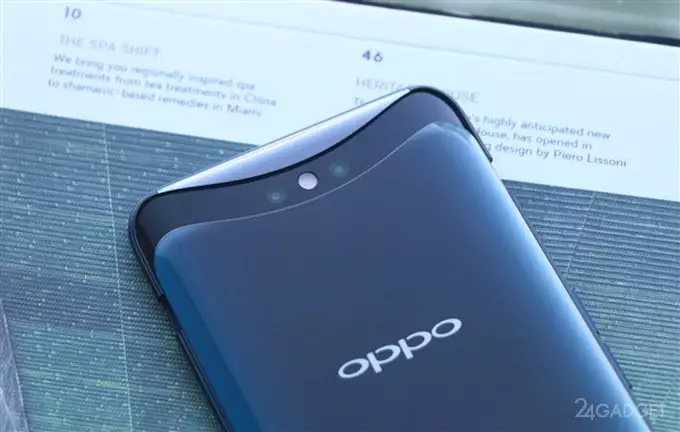 The first Oppo flagship smartphone in four years has been very entertaining and effective thanks to a unique design solution first introduced in the mobile device industry. However, innovative in Find X was not only the appearance, but also the inside.
Chinese experts specializing in disassembling gadgets opened the flagship and showed the mechanism of a sliding unit with cameras in action. As it turned out, the motor located in the center of the smartphone is responsible for the operation of the mobile part of the device. Side mounts that provide movement of the unit with cameras are endowed with cushioning, which is responsible for a smooth ride. How strong and reliable is the construction used by Oppo engineers, we will find out later, when the customers of the new product gain user experience or carry out strength tests on their gadgets. The manufacturer, for his part, assured that with proper work (without bullying the smartphone) the OPPO Find X slider mechanism will work for at least 5 years with daily use in the amount of 155 times.
The front-facing camera of the flagship was the 25-megapixel Sony IMX576 aperture f / 2.0 and HDR support, surrounded on both sides by face recognition sensors responsible for recognizing the device. The dual main camera consists of a 16-megapixel Sony IMX519 (f / 2.0, optical stabilization and RAW HDR available) and a 20-megapixel sensor with f / 2.0 aperture.
As you can see, the OPPO Find X involves a huge amount of detail – more than other modern flagships. On the one hand, this seriously complicates the analysis of the device, on the other hand, it shows that certain components can be replaced in case of failure. As noted by Chinese experts, OPPO Find X is made very high quality and has a good heat sink.