In a small test group in Marseille, physicians have allegedly proven the effectiveness of COVID-19 treatment with a combination of two drugs – hydroxychloroquine and azithromycin.
Despite the small test group and the lack of extensive clinical trials, physicians at the University of Marseille Hospital reported the successful use of a combination of two available medications to treat coronavirus patients SARS-CoV-2. It is a combination of hydroxychloroquine (antimalarial and antiarthritic, also a moderately immunosuppressive) and the common azithromycin antibiotic. The article was published in the International Journal of Antimicrobial Agents.
The French conducted a study with a sample of 36 adult patients infected with SARS-CoV-2. Some of them had COVID-19 symptoms, others only carried coronavirus. 15 were males (41.7%), the mean age of the sample was 45.1 years.
16 patients received the usual symptomatic treatment, preventing bacterial complications with antibiotics, and 20 others were given an experimental course. All survived.
Volunteers were prescribed 200 mg of hydroxychloroquine sulfate three times a day (orally), six of them were also given 500 mg of azithromycin (to prevent pneumonia) on the first day, and then four days – 250 mg. All of them underwent thorough cardio monitoring to monitor for possible side effects on the heart. It is noted in the findings that these six had undergone this treatment well.
The graph below shows the percentage of patients with a positive nasopharyngeal test for SARS-CoV-2 by day. The black line – control, the blue line – patients with only hydroxychloroquine treatment, the green line – those who were treated with a combination of drugs.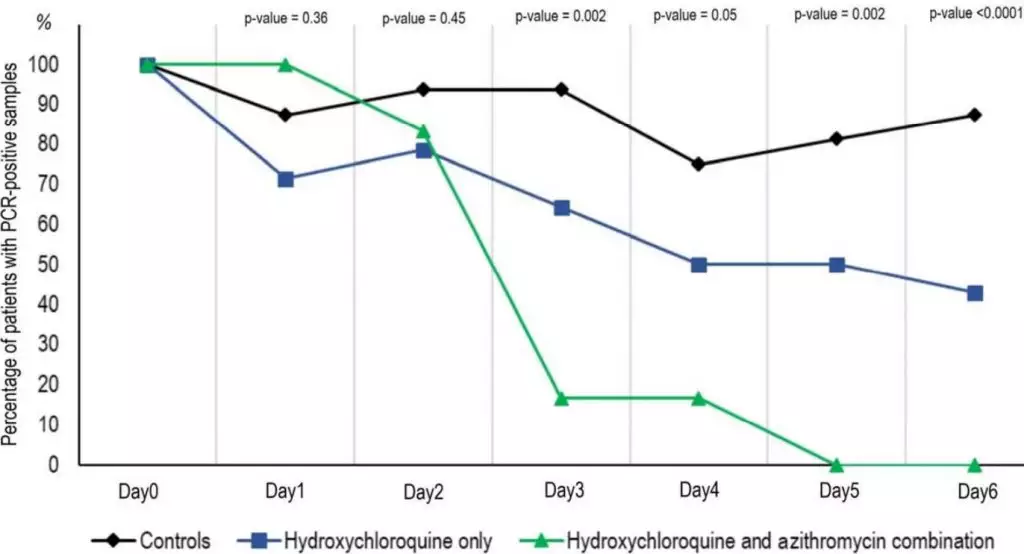 By the end of the fifth day of treatment in six "hydroxychloroquine" patients the virus tests were negative and confirmed by repeated testing. Those who were given hydroxychloroquine were older than those in the control group (51.2 vs. 37.3 years).
Meanwhile, U.S. President Donald Trump has already stated on Twitter with a reference to this study that "the combined use of hydroxychloroquine and azithromycin has a real chance to become one of the most significant events in the history of medicine. Hopefully, it will be used immediately."
A month ago, the United States began testing remedesivir in humans as a cure for coronavirus.
Also in February, a Chinese pharmaceutical company received approval to sell favipiravir as a potential cure for COVID-19.