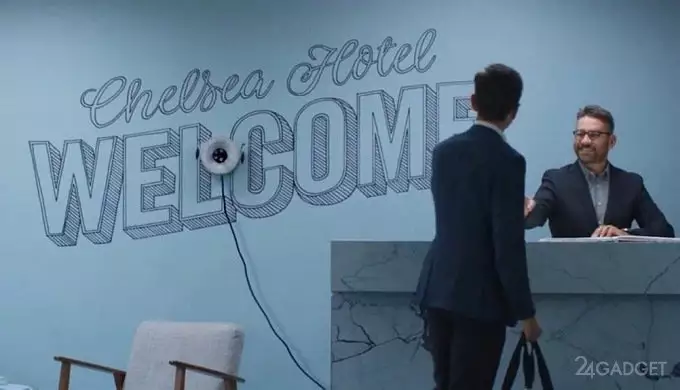 A compact Scribit robot, similar to a washer-shaped vacuum cleaner, can realize the dream of many children, namely, to create pictures on walls and glasses without threatening to listen to reproaches and instructive speeches of parents. However, this gadget will appeal to adults as well, since it opens up a huge potential for the implementation of various scenarios. For example, in a restaurant you can update your menu on the glass every day before starting work or report on the action of the day. An artist and an architect can paint the walls of his workshop for current work.
Using the simplest fastener of the support cable, the robot runs without problems on almost any vertical surface, simultaneously drawing on it. The process looks quite meditative. Not too complex images will require up to 20 minutes of work. Another undoubted advantage of Scribit is that the robot is able to erase all of its art.
However, certain requirements are imposed on the surfaces on which the robot runs. Marker surfaces and boards that have been painted with a special drawing agent, as well as glass and plastered walls, are suitable. It is from them that the robot will be able to easily erase its creativity. For application, any fairly smooth surfaces are suitable.
In the process of drawing, the robot uses 4 felt-tip pens that come with it: yellow, blue, red and black. Over time, they can be changed to any others purchased in any store. Of course, the authors of the project recommended by default the purchase of official markers from them, which the robot can erase 100%.
The sketch of the drawing is transmitted to the robot via Wi-Fi from the application of a smartphone, computer or tablet. The selection of suitable files, by the way, is quite large. It is curious that the image is erased by a robot using heat. His special "hot eraser" heats up to 65 degrees Celsius, while evaporating the paint. So she disappears forever. Eraser does not deteriorate from repeated use.
Now for Scribit it is proposed to make an advance payment of $ 349. By paying this amount, the buyer will receive a kit consisting of a robot and a dozen markers.