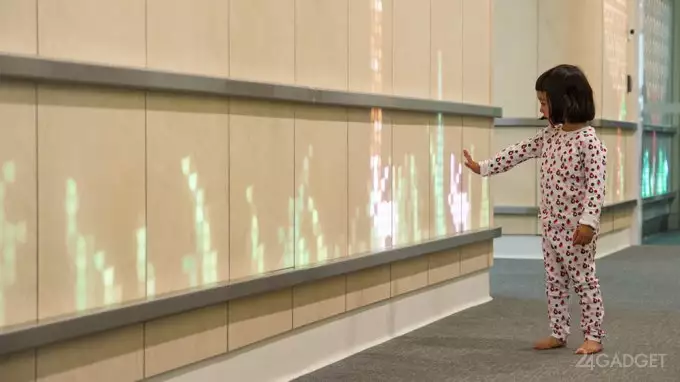 Australian designers from ENESS have developed luminous Lumes panels that enliven a regular wall inside any room. The novelty has already been installed in hospital pediatrics in the Australian city of Malvern. The installation is simple – a system of panels with LEDs recognizes the proximity of a person and reacts to this with animation and image enlargement. At Lumes Children's Hospital, it consists of 12 LED panels covered with wood veneer and three acrylic panels, each 175 x 50 cm in size.
In the children's hospital, the wall reproduces various animations, and each panel can display separate scenes or common to convey a single plot.
The scope of Lumes is very extensive. They can be installed in retail outlets, entertainment complexes, intricate institutions, hotels and are able to display, for example, arrows pointing the way, or any other information. The size of the system panels can be changed to the parameters required by the customer.
In the future, Lumes will respond not only to proximity, but also to sound. It is already possible to pre-order the purchase of panels, but nothing is reported about the cost of the product, nor about its technical characteristics. Note that while the images are primitive and rely on complex animation is not necessary.