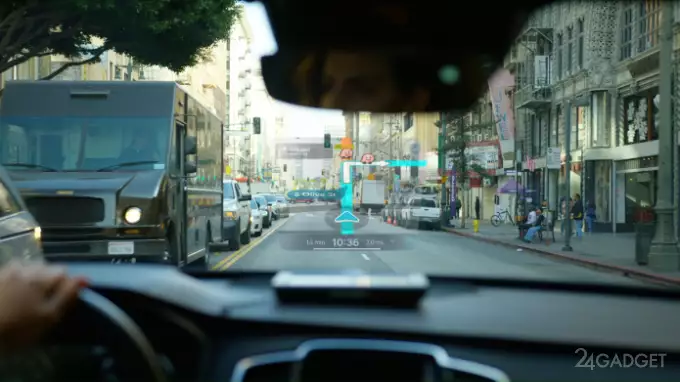 EyeDrive Car Holographic Assistant is designed to reduce the risk of accidents due to the use of a smartphone while driving. The new gadget will directly output the most important data from mobile applications directly to the windshield.
So it will be possible to see a music player, navigator and even a contact image in case of a message or an incoming call. The novelty can be controlled using voice assistants from Apple or Google, depending on which brand the user has a smartphone. Simple swipe gestures are also supported. To use them, it is enough to install a proprietary infrared sensor in the passenger compartment that recognizes movement. With the help of new items, you can change the volume of music, reject and receive calls, navigate through the EyeDrive menu. The sensor operates on the built-in battery for 500 hours without recharging.
The EyeDrive kit is seamlessly complemented by an equally self-contained parking camera. This gadget is protected from water. A wireless module is built into it, which allows you to broadcast the picture directly to the base module projecting it. In order to maximize the brightness of everything that is displayed, a special transparent film is glued to the glass. Thanks to its reflective surface, the image becomes "readable" in all conditions, including, among other things, in bright sunshine.
EyeDrive gadget can be purchased through Indiegogo for $ 199. If you include a motion sensor in the kit, the cost will be $ 269 dollars. The option also with a parking camera – will cost $ 349 already.