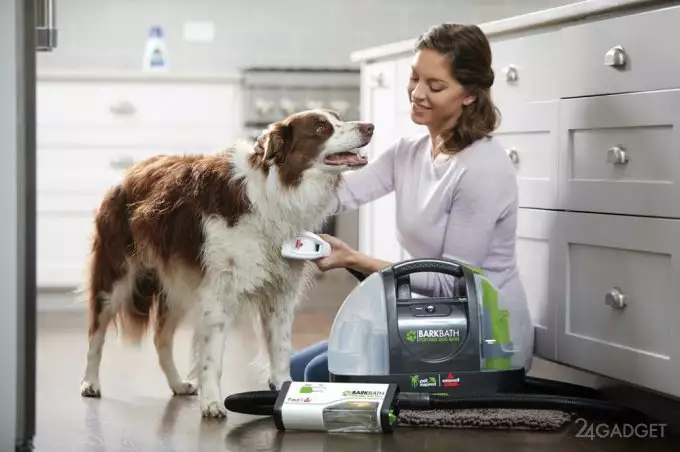 The long-term torment of dog breeders related to cleaning the pet's hair from dirt and dust after walking in the fresh air seems to have come to an end. Within the walls of the American company Bissell have developed a useful device BarkBath, designed exclusively for the care of a four-legged friend. The principle of operation of the new gadget is the same as that of a washing vacuum cleaner – it is necessary to fill a special tank with water and detergent, and then, armed with a nozzle, process the animal.
All dog owners know how difficult it is to wash a pet. It must be persuaded to get into the bath, wet, soap, rinse shampoo, thoroughly wipe and dry the coat. The process is often accompanied by disturbances of the dog, who was not going to take a bath at all, and numerous brushings guarantee an unscheduled shower for the owner and additional cleaning of the room.
In the new product, dirty water is instantly sucked into a special tank, from where it must be poured at the end of the process. In addition, the manufacturer recommends repeating the washing cycle without using shampoo: this allows you to remove residual detergent from the wool, making it perfectly clean.
Let's not forget about saving resources. The developers estimate that washing a large dog in the bathroom will require about 72 liters of water, while BarkBath uses only 1.4 liters and the coat remains almost dry after washing. Today, test versions of a dog vacuum cleaner can be bought for $ 99.