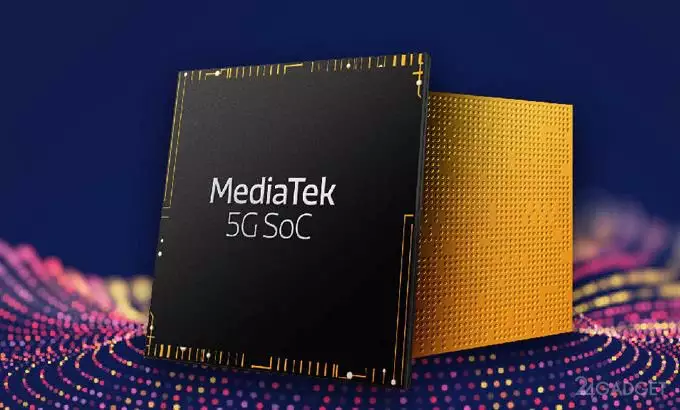 The introduction of 5G technology is picking up pace, which is why smartphone makers have already begun the competition to conquer the market. An important point for the success of sales of smartphones equipped with 5G modems will be the price. New from MediaTek, the first processor with an integrated 5G modem can significantly affect pricing. The new processor is tentatively called MediaTek 5G SoC. Currently, it is declared that processors from the Chinese manufacturer are much cheaper than similar chips from the American company Qualcomm. Therefore, the installation of MediaTek 5G SoC processors will allow smartphone manufacturers to significantly reduce the cost of mobile devices compared to gadgets on which Snapdragon chips supporting 5G technology will be installed.
Technical parameters of MediaTek 5G SoC are not disclosed. It is only known that the processor is manufactured using 7-nanometer technology and new Cortex-A77 cores from the British company ARM will be installed on it. According to the developers, the new cores have a performance 20% higher than the previous ones. It is assumed that the processor will use several clusters, which will allow installing Cortex-A55 cores, which are highly energy-efficient and can be used in conjunction with Cortex-A77 using big.LITTLE technology.
The MediaTek 5G SoC processor will also receive the ARM Mali-G77 video chip, created on the fundamentally new Valhall architecture, which increases productivity by 40% and reduces energy consumption by 30%.
The single-chip system will be equipped with an M70 modem that supports 5G networks. At operating frequencies up to 6 GHz (sub-6), the speed of obtaining information reaches 4.7 Gb / s, and the rate of return is 2.5 Gb / s. The modem also supports 2G, 3G and 4G cellular networks, while dynamically distributing power between the networks for a more efficient connection. The first devices equipped with MediaTek 5G SoC are likely to appear on the market no earlier than 2020.