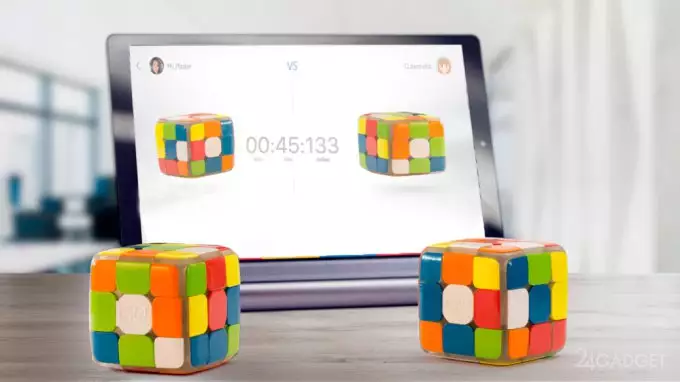 One of the most popular toys known around the world and sold well is the Rubik's Cube. To an ordinary person, this generally simple cube seems to be a difficult puzzle, but a modern robot will solve the problem in tenths of a second. And recently, a campaign was launched on Kickstarter, which was designed to simultaneously simplify and complicate the entire game process with the famous cube.
GoCube – a reasonable Rubik's Cube, promising the discovery of new, exciting game horizons and options. He monitors the process of solving the cube, creating a virtual double user on the mobile gadget. This allows you to check your moves, statistics and progress, as well as make step-by-step tutorials available.
According to the developers, although the Rubik's Cube is an excellent game, people often hesitate to even start it. They just think that the task is too difficult for them. Experienced players, however, cannot adequately evaluate their own results and are not always interested in improving them.
With the help of GoCube, the game can turn into fascinating entertainment for several people at once. In the proprietary application, network battles, real-time games, and support for general ratings are provided for this. That is why the new gadget is able to intrigue and draw into the entertaining process both beginners and pro players.
Of course, not everyone is interested in exchanging the usual Rubik's cube for its reasonable Bluetooth analog. But it is also certain that many people will want to test themselves in the GoCube, which is now offered for purchase for $ 69. They promise to deliver a smart cube in March next year.