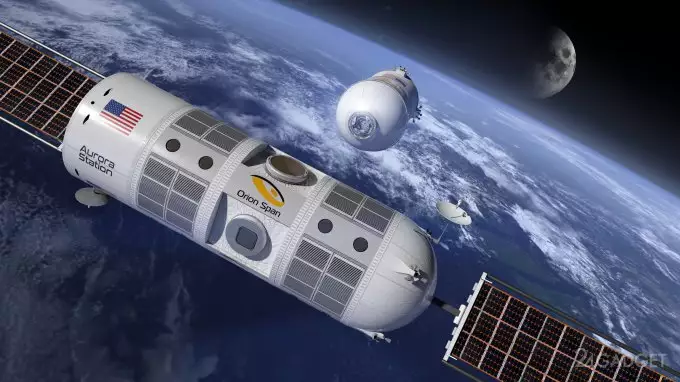 Orion Span startup company wants to launch the world's first luxury space hotel with an "affordable" price tag. The project is called Aurora Station, and those who visit the station will be able to see 16 sunrises per day, floating in zero gravity.
The space station will debut in 2021, a year earlier than expected. The hotel can accommodate 4 vacationers and 2 crew members. The ship itself is commensurate with a small private jet measuring 13.3 x 4.3 m. The space tour is designed for 12 days, but before the trip it will be necessary to take 3-month courses from astronauts-veterans with the receipt of the corresponding certificate.
Space tourists staying in this luxury hotel will fly above the Earth at an altitude of 322 km, in the so-called low Earth orbit. The station promises constant access to high-speed Wi-Fi and upscale space food. In addition to observing landscapes through the window, travelers will be offered to conduct experiments, for example, to grow a plant.
The main catch is the price of such a dream. For rest in a space hotel you have to pay 9.5 million US dollars, but these are mere "pennies" in comparison with a visit to the ISS. So in 2001-2009 training, transfer and living in an unusual place cost one $ 20-40 million for one commercial person.
To finance its concept, Orion Span is engaged in crowdfunding for investors. If you are ready to fly into space, you can reserve your place on the waiting list with a deposit of $ 80,000. Which company will transport the guests is not reported, as well as whose hands will be used to mount the Aurora Station in orbit.