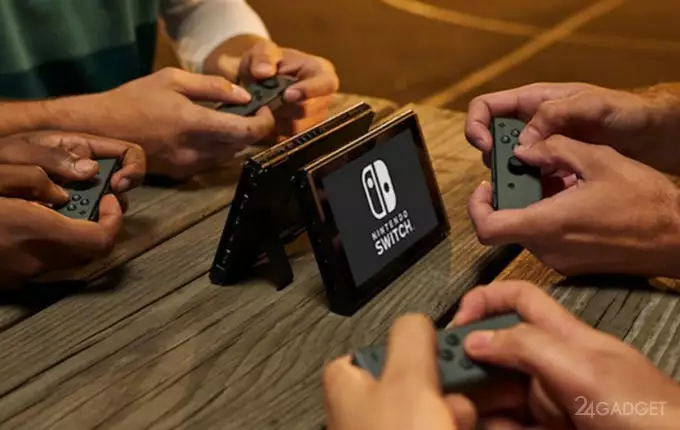 The Japanese company Nintendo, finally, revealed the technical characteristics of the new Nintendo Switch game console, introduced at the end of October 2016, as well as told about the functionality of its components, their cost and announced the start date of the official sales of new items.
Nintendo Switch, due to its modular design, can be a portable set-top box or desktop console with a TV connection. The main panel contains a 6.2-inch screen with a resolution of 1280 × 720 pixels, a Tegra X1 processor, a Wi-Fi model, an integrated camera, a USB Type-C connector for recharging a dead battery outside the house, and an NFC chip for connecting Amibo figures. In the desktop form, the console delivers a power of 768 MHz, and when using the portable mode – 40% less (307.2 MHz). The battery charge is enough for 3-6.5 hours of battery life. The indicated time directly depends on the running game and operating conditions. Joy-Con gamepads are equipped with vibration, a gyroscope, an analog stick, an accelerometer and infrared cameras that allow you to determine the shape, distance and movement of nearby objects. On the left joystick there is a button for recording video and photos, and with the help of the right one the player can use augmented reality applications. In which case the joysticks can be purchased individually, for example, to play with up to 8 people.
The console itself will cost $ 299, and its sales will start on March 3, 2017. Pre-order new items and additional accessories open today. If the future owner expects to use the Nintendo Switch with a TV, you will have to buy a dock for $ 90. One Joy-Con controller will cost $ 49, two – $ 79.
The Switch online service will be free until the end of 2017, after which a paid subscription will be introduced. It is known that Nintendo will pamper subscribers with the periodic distribution of free classic games from its previous consoles and special games for two separate Joy-Con controllers. The developers refused from regional coding, so Switch can be bought anywhere and games bought in any of the regions of the world are suitable for it.