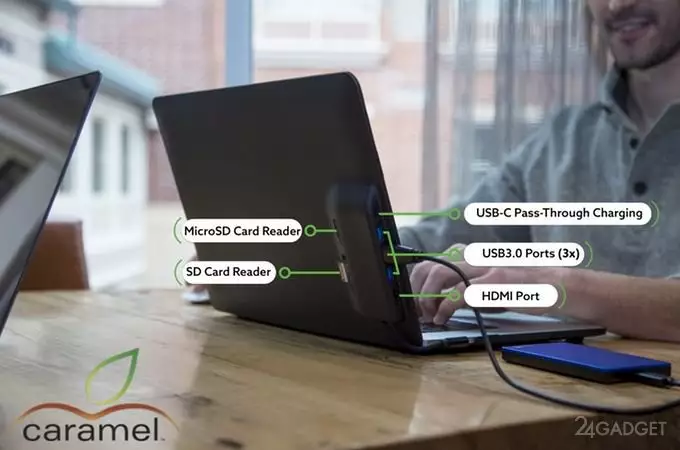 On the Kickstarter crowdfunding platform, the comfortable Caramel case has appeared, designed for the new Apple MacBook Pro models. The gadget consists of two polycarbonate panels that are tightly attached to the bottom surface and lid of the laptop.
The part fixed on the cover has a built-in hub with a decent set of useful connectors. To activate them, just connect the case to the USB-C connector located on the left side of the laptop. On one side of the hub there are three USB 3.0, HDMI, one USB-C, supporting charging with power up to 100 watts. That is, the MacBook Pro will be able to charge directly through Caramel. On the upper side of the hub there are slots for microSD and SD memory cards. Thanks to such an extensive arsenal of connectors, it is possible to connect hard drives, flash drives, external screens and additional manipulators to a laptop without problems. Caramel will help to bring a picture from a laptop to a TV or monitor with a resolution of up to 4K.
In addition, the case will reliably protect the laptop from spilled liquids and scratches. It is suitable for 15- and 13-inch laptop models from Apple. Now it can be purchased for $ 59.