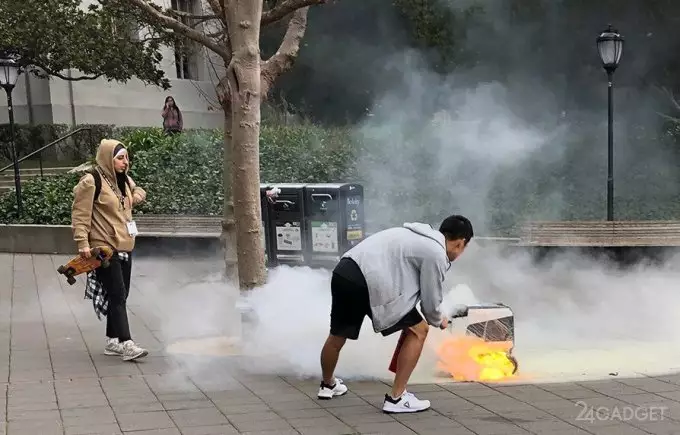 Not only horses die from work, but also courier robots with a promising future. One of these days at the University of California at Berkeley, one of KiwiBot's 100 standalone on-campus delivery workers caught fire right in front of a food delivery order, and the incident was due to a faulty battery, Kiwi officials said. None of the people who arrived at the university were injured. Some eyewitnesses were not at a loss and took advantage of a fire extinguisher located in the building of the Student Union of Martin Luther King Jr. They extinguished the flame, and the fire service that arrived later doused a rather scorched robo-poor fellow with an additional portion of foam to prevent re-ignition.
At the moment, the manufacturer has recalled all stand-alone hard workers to check the batteries and install special software for monitoring the battery. Students, in turn, staged a farewell commemorative action for the delivery robot who had burned out at work.
According to Kiwi, the robot courier is designed to transport food at the last 300 meters from the customer. The purchase process itself consists of three parts. First, the robot transfers the order from the restaurant counter to the street, where it is picked up by a courier on a tricycle. This courier delivers food within a few hundred meters of the destination and puts everything in KiwiBot so that he delivers everything right to the buyer's door. The service was launched in 2017, and as of May of this year, more than 10 thousand such deliveries were made with an average delivery time of 27 minutes, the company said.