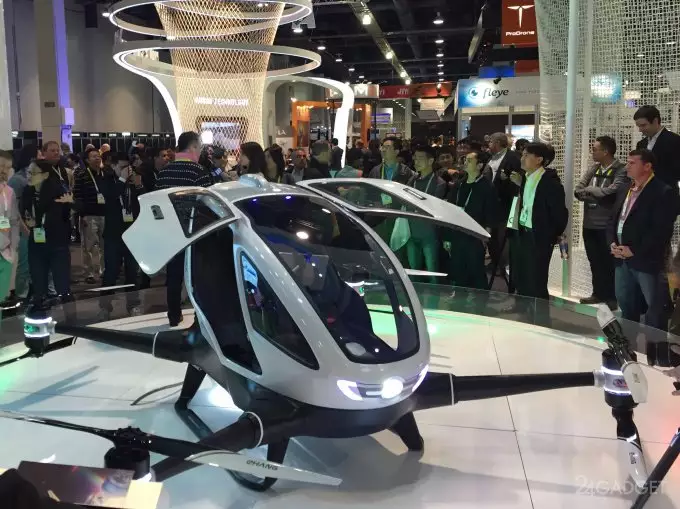 An interesting prototype of the aircraft was presented at CES 2016 by the Chinese manufacturer Ehang. The company did not spray on the smallest drones in the world, its development is much more interesting – the Ehang 184 model is designed to carry one passenger with luggage. Thus, the novelty became the largest drone in the world, which is a kind of taxi.
The autonomous aircraft has a weight of 200 kg, 8 electric motors, 4 folding arms and 8 propellers, dimensions 1447x3866x3899 mm, a flight speed of 100 km / h and a flight time of 23 minutes. Ehang 184 can lift loads of up to 100 kg into the air. Inside the transport there is nothing that even remotely resembles the controls. The passenger is invited to place their hand luggage in the luggage compartment, sit comfortably in the chair, fasten their seat belts and select a destination on the display of a 12-inch tablet, and then enjoy the view from the window or fast Internet. Creating an optimal route, complete and at the same time safe piloting (take-off, flight, fly-around obstacles, landing), an autonomous drone takes over.
The company intends in the near future to use a maxi drone for the commercial transport of people or goods. According to the developers, this year the car will be available for purchase, and its cost will be from $ 200,000 to $ 300,000. The only question remains is whether Ehang will be able to resolve all the legal aspects and obstacles in countries where drone taxi sales are planned.