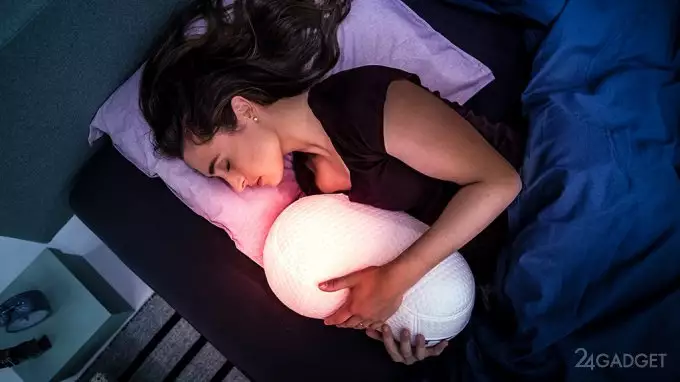 Kickstarter launched a project to create a pillow robot that provides a calm and serene healthy sleep. Somnox is similar to beans in its shape. Anatomical bends allow the user to press the robot more tightly to his body, because according to the idea of the developers, you need to sleep with him in an embrace.
The mass of the pillow is about 2 kg. The device can reproduce relaxing sounds, simulate the heartbeat and various rhythms of a person's breathing, so that the user, having picked up his own, can quickly depart into the arms of Morpheus. According to the developers, sleeping with a Somnox pillow is more effective and stronger, allowing you to sleep well and relax.
In addition to the sound of breathing and heartbeat, the user can broadcast any audio file through the pillow, after downloading it to the microSD card. After using the pillow robot, it must be recharged from the mains. Somnox supports Bluetooth communication with a smartphone, through which you can broadcast sleep parameters to a special application to identify problems. You can also start and turn off the robot through the smartphone, set the alarm and other things. The cost of Somnox is € 449, however, despite the high cost, the project has already collected the necessary amount for the production of the gadget by reservation.