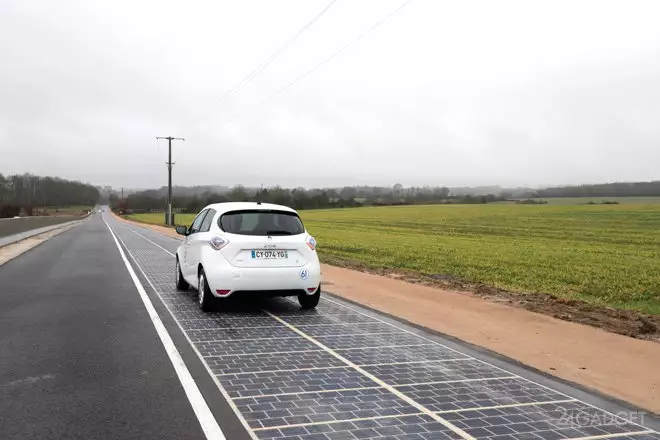 France launched the world's first solar-coated road. Cars are already moving along the 1-kilometer Wattway motorway, laid at the Norman settlement of Turuvre o Persh with almost 3,400 inhabitants, but so far the project is functioning in test mode. It is planned that the test of the site with the energy-generating roadbed will last for two years and during this time it will be clear whether it is worth further developing the concept and whether it pays for considerable investments (the state spent over 5 million euros on the initiative).
Wattway is equipped with 2880 photovoltaic modules coated with several layers of silicon resin for maximum resistance to the weight of heavy trucks passing through it. According to analysts, about 2 thousand cars will drive through the site with solar panels per day, and in two years of operation it needs to show its best in all aspects.
Analysts understand that panels mounted on a horizontal plane are less effective than those mounted in an inclined position, for example, on roofs of houses. Wattway's annual electricity production is estimated at 280 MW * h. On the same day, energy production is projected at 767 kWh with peak periods of up to 1,500 kWh in summer. All the energy received by the system will power street lighting in Turuvre aux Perches.
If the Wattway road works as planned, France will install 1,000 km of solar panels on French routes (a total of about 1 million km of roads in this country). Skeptics say that the construction of Wattway was 13 times more expensive than if solar panels were installed on the roofs of the houses of the village. However, contractors say that over time, the cost of solar installations will become cheaper due to the widespread use, debugging and improvement of technology. As far as not specified.