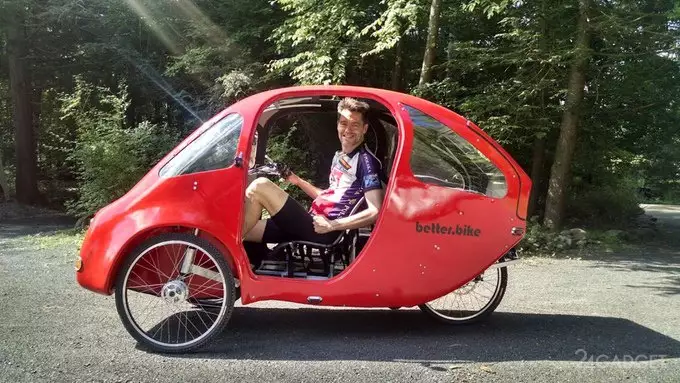 PEBL is an amusing pedal-electric cycle car, which is able to pretend to be the optimal "green" vehicle for moving around the city or outside the city for nature. Three-wheeled transport is equipped with a 750 W electric motor and it can be used together or instead of a pedal drive. In throttle mode, when the driver does not pedal, PEBL accelerates to a maximum speed of 32 km / h. A two-three-hour charge of a 48V / 16-Ah lithium-ion battery is enough for a 40-kilometer distance, but when pedaling, the travel distance depends only on the endurance of the user. The bike's standard features include: vinyl doors with clasp windows, a rear suspension, a full lighting system, cruise control, a regenerative braking system, a rechargeable battery on the go, an 8-speed Sturmey Archer gearbox and a combination of drum brakes in front with mechanical disc brakes from behind.
Among the additional options: a 600-watt heater, roof mounted solar panels for recharging the battery and three additional rechargeable batteries to help increase the range of electric traction.
The bicycle is designed for one person in front (the driver) and one adult or two small children in the back. It also has a luggage compartment with a capacity of 170 liters, which can be increased by folding the rear seat. The PEBL case is made of hemp fabric impregnated with soy based resin. The material, in addition to being more environmentally friendly than fiberglass, is also quite durable and lightweight – transport weighs only 88 kg. The maximum allowable load is 159 kg.
The PEBL project is the brainchild of better.bike Massachusetts start-up and is now open on Kickstarter to raise funds for further implementation. Those wishing to purchase a \Thus, we have before us an electric bike with additional privileges and comfort.