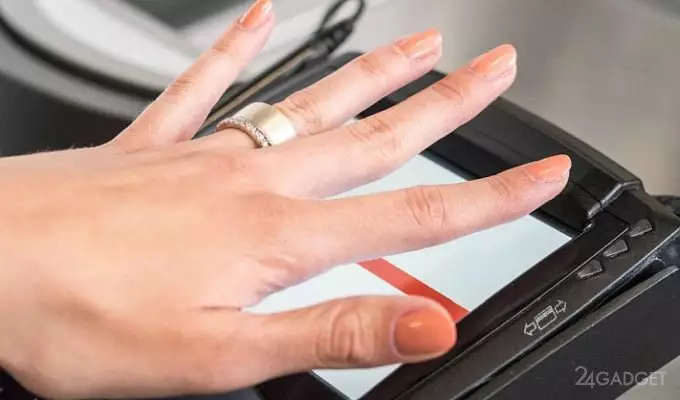 Tokenize Inc. developed a biometric ring that can replace keys to house and car doors, credit cards, transport cards, keys, and other important little things that take up a lot of space in your purse and get lost all the time. Stylish accessory measuring 9 × 2.5 mm, made of sterling silver, works without recharging for two weeks.
Inside the waterproof case there is a Bluetooth module and an NFC chip. On the inner side of the ring is a fingerprint scanner that uses the EAL5 + data protection standard. If the user removes the ring, all functions are automatically blocked, if put on again activated.
Using Token Kshtp you can: • contactlessly pay for purchases with MasterCard and Visa (partnership agreements have been concluded with these companies);
• pay for travel with your transport card (more than 50 transport companies around the world will support payment using Token);
• open access to any premises where the user has a pass (relevant for HID Global cards);
• activate the password on laptops, PCs and tablets running Windows (an agreement was signed between Tokenize Inc. and Microsoft for this);
• open the door of the house (you need a proprietary Token DoorLock lock);
• open the machine, turn on the ignition and connect to the ODB2 port (using an additional USB key from Tokenize).
A proprietary mobile application has been developed to control Token functions. In the basic version, a pre-order multifunctional biometric accessory costs $ 249, with an additional coating of pink gold or black rhodium – $ 300. The door lock from the Token DoorLock apartment and the CarLock lock for the car will cost another $ 100 each. The start of sales and deliveries to customers is scheduled for December 2017.