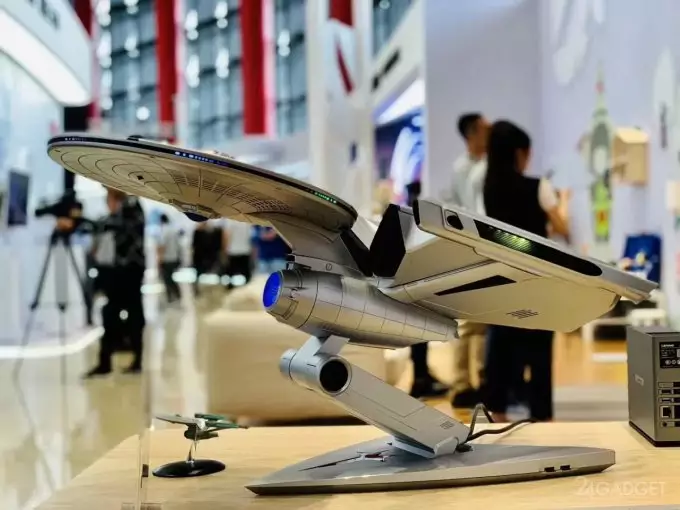 Lenovo's design team has demonstrated its latest addition to the PC market, it was released in the form of a spaceship USS Enterprise. The Lenovo Titanium Enterprise NCC-1701A, modeled as a 23rd century Federation starship, is a massive metal PC capable of pleasantly shocking Star Trek fans. The external design of the machine is not all that is impressive, looking inside, there are many surprises.
Lenovo Enterprise PC comes with an NVIDIA GeForce RTX 2080 GPU with 8 GB of GDDR6 memory, with a ninth generation Intel processor, 32 GB of DDR4 RAM, 1 TB M.2 SSD and 2 TB HDD. In addition, the device supports LAN as well as Wi-Fi for a high-performance gaming network solution. It is clear that this PC is not just an exhibit; it targets serious gamers with a Star Trek obsession.
The computer was introduced in China at the Beijing Beijing Tech World Conference 2018. In addition to the standard specifications that we expect to find on the desktop PC, Lenovo was also able to prepare some surprises, including LED lighting and a mini projector with a resolution of 400 lumens. You can purchase a spaceship for $ 2,180, but it is only available in China. Lenovo has not yet announced whether the Titanium Entperise will travel to other countries. Note that the rights of the copyright holder Paramount CBS when creating the gadget were respected.
, mydrivers.com