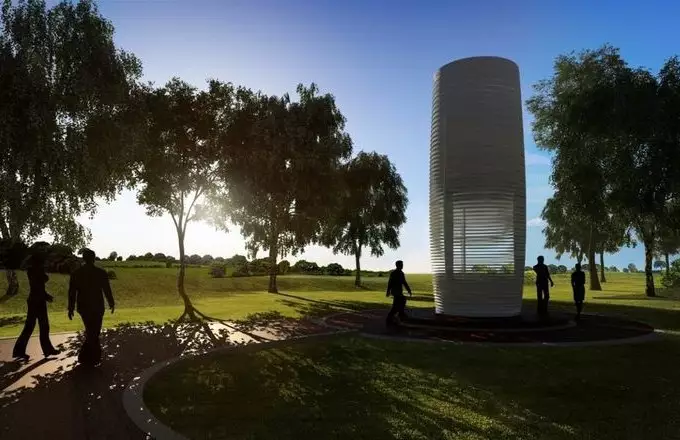 No one will deny that all the world's megacities sin with bad ecology. The presence of such a negative factor as a smog has an extremely adverse effect on people's health.
Studio Roosegaarde, the Dutch social initiative studio, intends to implement a social project, the essence of which lies in the construction of giant tower air purifiers. The idea to create such a structure came up with the company's engineers after visiting one of the most polluted cities in the world – Beijing. The cleaning tower called Smog Free Tower will operate on the principle of conventional treatment devices used in medical institutions, only the project is larger.
In September of this year, it is planned to erect a complex of towers in one of the parks of Rotterdam. As they say in the company, a series of structures will not correct the environment as a whole, but it will achieve positive results in a limited area. The complex is designed for daily processing of 1000 cubic meters of air.
This means that the atmosphere near the installation will be 75% cleaner than in the rest of the city. The energy requirements of Smog Free Tower are 1,700 W. The very design of Smog Free Tower is mobile, therefore, for presentation purposes, the product will be transported to different cities of the world.
What is more interesting, the collected smog particles will be turned into miniature blocks, which in the future will become the highlight of the jewelry – rings, cufflinks, pendants. Everyone can buy products as a souvenir (for money). Studio Roosegaarde is currently raising funds for the project through the Kickstarter website.