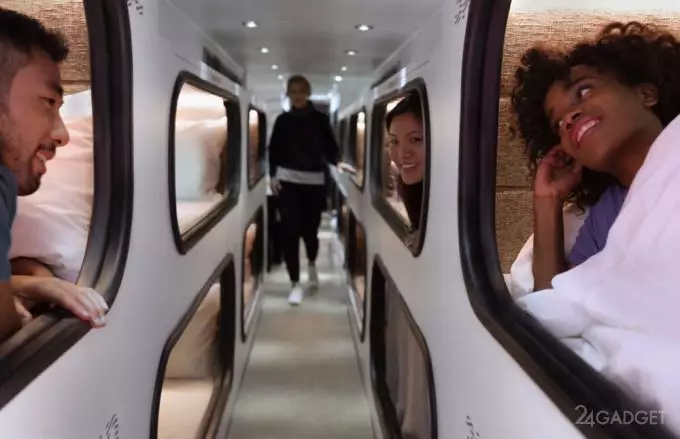 A long-distance bus ride is a very tedious task, especially when driving at night. Sleeping on an armchair is very uncomfortable: spinning, spinning, but in the morning there is no strength, and the body aches. But a solution was found. Tom Courier decided to equip buses with comfortable beds. A pilot project of two equipped vehicles was launched on the Los Angeles – San Francisco route and back. The bus leaves at 23.00, and the next day at 7.00 arrives at its destination.
The project was called SleepBus. Double-decker buses, they have 24 cabins, each has a full bed, air conditioning, a window, a reading lamp, a socket for recharging gadgets. Passengers are given bedding and earplugs. In addition, Wi-Fi is available in SleepBus, coffee, tea, water and a restroom are available. The cabin is designed for one passenger who can take luggage with him.
Ticket price starts from $ 115 (for comparison, a ticket for a bus costs about $ 25). Reservations are made online. The service has been operating since the end of June. If the project justifies itself, then buses with beds will run on other routes.