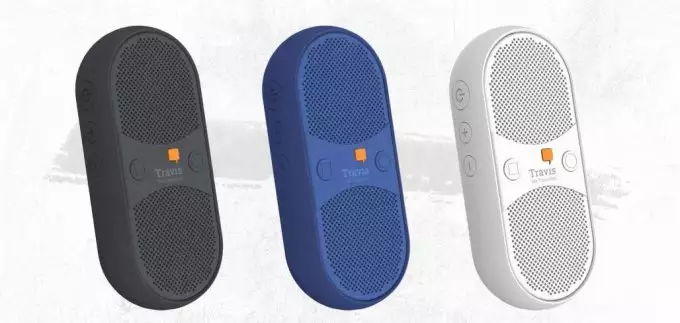 Going to a country where the population uses an unfamiliar language, we, as a rule, try to study it in advance at least at the simplest level, arm ourselves with a dictionary translator with the most common phrases. Google's text translator can also be useful in exploring menus, pointers, and more, but for live communication with the local population, a more versatile and quick tool is still lacking. It should be a compact gadget called Travis Blue, which understands up to languages, including Russian, Ukrainian, Armenian, Azerbaijani, Bulgarian, Dutch, Czech, Danish, Finnish, German, Greek, Spanish, Portuguese, Chinese, Japanese, Turkish, Arabic and Vietnamese .
The developers of the novelty were friends, travelers from the Netherlands, who had long thought about creating such a gadget. Travis Blue is a kind of Bluetooth speaker compatible with iOS and Android devices. For the most accurate translation, the fifteen best, according to the startup, linguistic algorithms are used. The language that requires translation, the user selects manually.
To perform its direct task, the device needs Internet access, so you should take care of this item in advance. With a good signal, Travis Blue will translate the heard text in 2 seconds. The built-in battery lasts for 12 hours of battery life. Travis Blue is proposed to be acquired through project support at the Indiegogo crowdfunding venue. In this case, the gadget will cost $ 89, and promise to send it in June this year. The product is available in black, white and blue case.