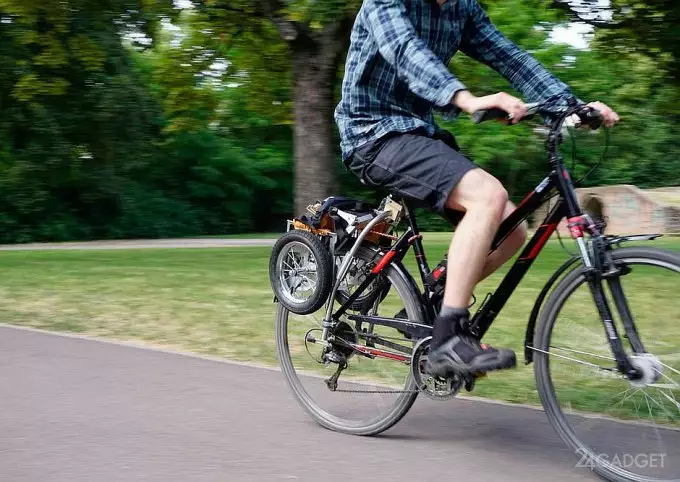 Using a bicycle trailer is a double-edged sword. Of course, with it you can transport much more cargo, and bulk items become more convenient to transport. However, when the trailer is empty, it greatly interferes, especially in the dense traffic of the metropolis. Trenux is a German startup that came up with an elegant solution to this problem. The idea is elementary, their device can be folded. The trailer has a light metal frame, which is attached to the bike itself so that the product does not cause any discomfort when traveling. It can be folded or opened at any time, it all depends on the circumstances.
The wheels on the trailer are small. When folded, they hang down on the sides behind the seat, without interfering with the main bicycle mechanisms. At the same time, their dimensions are sufficient to overcome relief obstacles. The weight of the trailer does not exceed 5 kilograms.
According to the authors of the project, the main advantage of the device is the difference between the working and transport conditions. In the first case, this is a platform that holds up to 40 kilograms of cargo, and there is enough room for carrying a suitcase, two beer crates or a box of fruit. In the second, the owner carries a burdensome burden.
The dimensions of the trailer are 62 x 42 cm. It was specially designed to carry typical purchases for citizens in conditions of lack of space for serious maneuvers. The main idea is to provide Europeans who have transferred to bicycles with a ready-made solution for realizing their spontaneous desires. So, you can go to work lightly, and on the way home to buy something for tea or pick up purchases made in the online store. This concept has hooked many. At the latest EuroBike 2018, Trenux even won the Lucky Start Award. They plan to collect money for the collection and release of the commercial version next year.