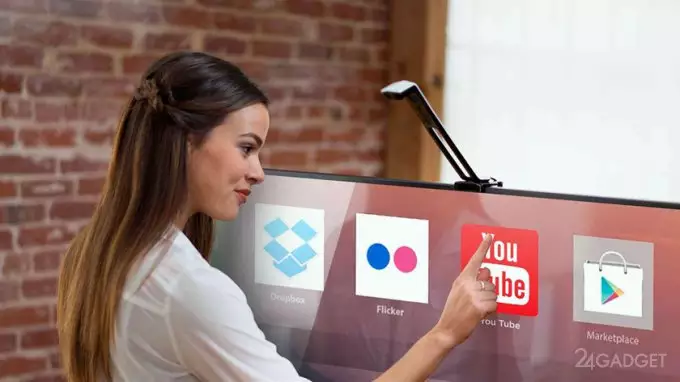 Monoblock touch computers with a large diagonal are quite expensive, and huge touch screens such as Microsoft Surface Hub – even more so. Touchjet offers a solution that can be used to make a television already in your home or office touch. The project is called Touchjet WAVE and is currently collecting money for implementation in IndieGoGo.
The principle of operation is quite simple: the Touchjet WAVE device is mounted on top of the TV and connected to it via HDMI. Infrared sensors are installed in the device itself, which track the movements of the fingers or stylus on the screen and interpret them into commands for the Android OS, on which the device works. A similar principle is used in numerous projection keyboards.
The gadget has a quad-core processor with a clock frequency of 2 GHz (ARM Cortex-A9), 1 GB of RAM and 8 GB of internal memory, OTG is supported, there is a Wi-Fi module for connecting to the network. Powered by Android 4.4 KitKat with a proprietary shell. The manufacturer claims that Touchjet WAVE can work with screens with a diagonal of 20 to 80 inches and displays images with a resolution of 720p, 1080p or 4K.
For convenient work, branded applications for mobile devices on Android and iOS are provided. The project has already raised more than $ 83,000 of the required $ 100,000; 30 days are left until the end of the campaign. They plan to sell the device for $ 100, and the beginning of deliveries will begin in 2016.