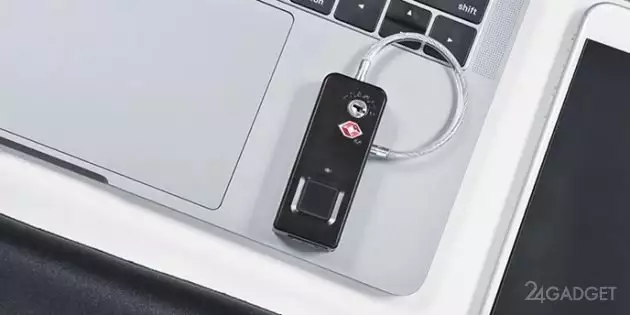 So that your trip is not overshadowed by the theft of things, try to use the novelty – a luggage lock with a fingerprint scanner. After all, you have probably heard how miniature combination locks that are usual for luggage suitcases that fasten two runners on a suitcase turn out to be unreliable, all the more there is a chance of losing keys as well. But locks with a fingerprint scanner, such as Travelock 2, may well serve you well and not only protect things from theft, but also save you from unnecessary worries constantly thinking about not losing the key to it.
The fact is that the Travelock 2 lock opens automatically when you touch a special sensor with your finger. The fingerprint of your finger is recognized in 0.5 seconds, it can be applied on either side – and an interlocking steel cable will unfasten automatically. You can save 10 prints in the device's memory database, especially for loved ones to whom you can trust access to your things. For emergency cases, a backup option is provided: you can open the lock with a universal TSA key, which is provided only to customs and airport security personnel. This opening method is designed to inspect things without your participation, as is the case with the Redmi suitcase.
Mechanical or physical effects on Travelock 2 will not produce any result. Its body is made of durable zinc alloy, and the hitch is made of acid-resistant steel wire of the AISI 304 brand. The lock is made according to the IP65 standard, which implies protection from dust and moisture, it can be used in rain and frost – the fingerprint scanner works in these cases flawlessly.
If you want to use the lock not only while traveling, but find it in everyday life, you can count on 5,000 unlocks. The lock is powered by a battery, which can be powered via USB from any power bank. Travelock 2 weighs just 100 grams. The length of the steel cable is 13 cm. The price of the device is $ 49 (≈3,200 rubles), while the purchase of two copies will cost $ 89 (≈5,800 rubles). You can choose the color: the products are made in dark and light versions.