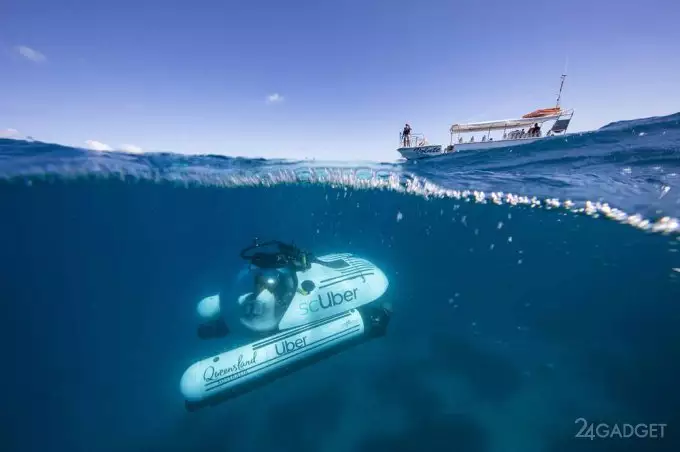 In Australia, a novelty is gaining popularity that allows everyone to literally immerse themselves in the underwater life of the Great Barrier Reef. This is an unusual scUber submarine taxi, which was launched by Uber.
The ordering algorithm is thought out to the smallest detail so that the underwater walk does not cause any unnecessary troubles, and throughout its entire length is comfortable and allows you to enjoy what you see, without being distracted by any difficulties. An order can be placed directly in the Uber app. On call, a car will arrive that will take the customer to the coast. Then, at his choice, by helicopter or a special pleasure boat, the client will be delivered to the Great Barrier Reef.
The special scUber submarine will dive, and the traveler does not need to worry at all: it does not require either diving equipment or the ability to swim underwater. The time of an exotic walk under water is 1 hour, after which the customer will be delivered to the place where his unusual adventure began. A small fly in the ointment in such an idyllic picture: scUber service costs $ 3,000, the number of seats is limited, and it will be possible to use it only during the period launch of a new service from May 27 to June 18, 2019. There is also a consolation prize: these days, Uber will play two free trips among citizens of the United States, Canada, Britain, France, New Zealand and Australia.