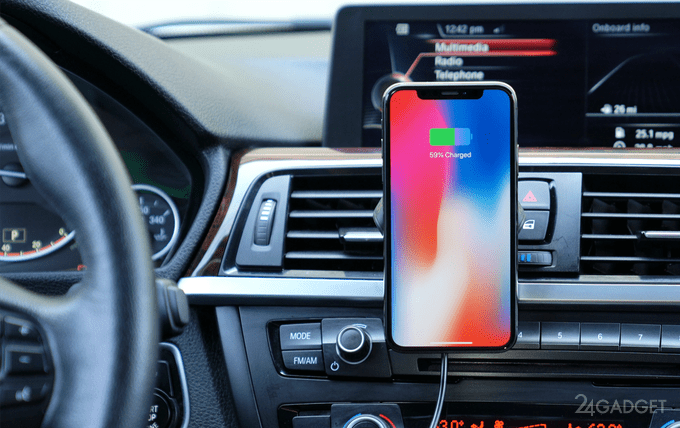 As a rule, supports and holders for a smartphone are attached to a mobile gadget by means of a magnet, a suction cup or an adhesive surface. Each of these methods has its drawbacks. A magnet requires metal plates on a smartphone. Sometimes it leads to problems in wireless connections and communication in general. The suction cup soon loses adhesion, becoming unusable. And from sticky sticky substances on the device's case there are traces that spoil its appearance.
The authors of the universal charger HoverCharge came up with another method of fastening – "anti-gravity". Their fixture is made of epoxy resin. It is able to hold the smartphone so tightly that it does not break even with impressive shaking, say, in a car. At the same time, there are no traces or scratches left on the case of the mobile device.
HoverCharge does not interfere with mobile communications and wireless connections. The product is easily attached to any surface: a leather case, or directly to the body – plastic or metal. You can also disconnect charging without the slightest problem.
Moreover, you can install HoverCharge in any convenient place. And all thanks to the included desktop stand, vertical mount and a long leg that is adjustable. The strict, simple design of HoverCharge allows you to fit it into any interior of your home or office. You can use the device in the car, while charging the smartphone and using it as a navigator in a convenient orientation.
HoverCharge is compatible with any smartphone, it is enough to support wireless charging technology. Pre-order gadget cost $ 19.