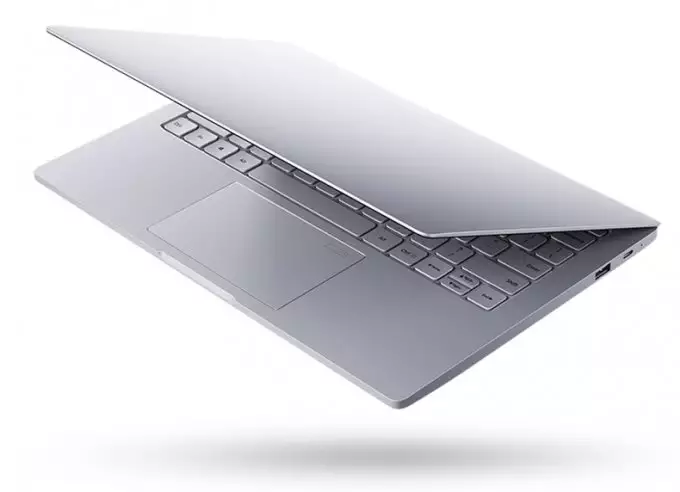 The Chinese company Xiaomi presented an updated laptop with a diagonal of 13.3 inches Mi Notebook Air, which in addition to the new generation processor received a fingerprint scanner built into the touch panel – touchpad and simplifies the work of a user who is trying to observe all safety measures, but does not want to create and remember complex passwords.
The external design of the laptop has not undergone any changes, it is a thin metal case, on the outer planes of which there is no company logo. The 13.3-inch display has a resolution of 1920 * 1080 (Full HD). Three main laptop delivery options are available for the user, equipped with Intel Core i5-7200U processors and 128 GB or 256 GB SSDs, while the flagship of the series provides for the installation of a 256 GB solid-state drive and Intel Core i7-7500U chipset, which, according to the developers, gives an increase in processing data by 12 percent. Along with integrated video cards, Air 13.3 laptops are offered with NVIDIA GeForce MX150 video adapters, which have 2 GB of GDDR5 memory (this is 2 times higher than the capabilities of the GeForce 940MX). In addition, which is especially important for laptop mobility, the new graphics card has low power consumption. All laptop models are equipped with 8 GB DDR4 RAM.
The autonomous mode of operation is provided by a lithium-ion polymer battery with a capacity of 40 Wh * h, which allows you to use the device for 7.5 hours when using the Internet and up to 8 hours when watching video files. The weight of the updated Notebook Air 13.3 will be 1300 grams, and a thickness of 14.8 mm allows it to be attributed to the class of ultra-thin laptops, convenient for work while traveling. The laptop has two USB 3.0 connectors, one USB Type-C, an HDMI input, a 5 GHz Wi-Fi module and a backlit keyboard. Two speakers AKG (Austria) and Dolby Audio will provide crystal-clear sound to audio files. In China, the ultrabook will go on sale in the coming days and is estimated as follows: a series with a Core i5 processor and 128 GB SSD will cost $ 735, while a Core i5 and 256 GB SSD will cost $ 810. For other configurations, prices will be announced later. Laptops use Windows 10 and Chinese. Only models from the official delivery will receive engraved letters in Russian.