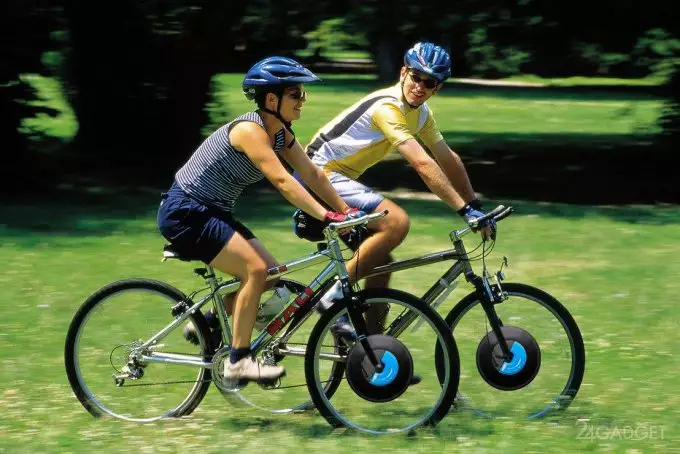 Using a new offer from UrbanX startups, cycling enthusiasts will be able to save a lot when converting their traditional bike into an electric one. A simple and effective solution from UrbanX is to replace simple bicycle wheels with special electric models developed from aircraft aluminum and presented by two types: UrbanXBooster (350 W) and UrbanXEco (240 W).
UrbanX wheels have a declared load capacity of up to 140 kg with a dead weight of about 7 kg (the weight of the wheels includes a 3500 mAh battery). On one battery charge, the bike will be able to overcome up to 50 km at speeds up to 32 km / h. At the same time, the developers offer an additional battery with a capacity of 3500 mAh, which has a USB connector, which will also provide a charge for the cyclist's smartphone. UrbanX wheels via Bluetooth will transmit information about the remaining battery power, approximate travel distance at given speeds and travel time to the mobile application.
Fundraising for a startup is carried out on the Kickstarter site. Enthusiasts developers intend to begin supplying products in the summer of 2017 and will offer wheels at such a cost: UrbanXEco – $ 299 and UrbanXBooster – $ 399.