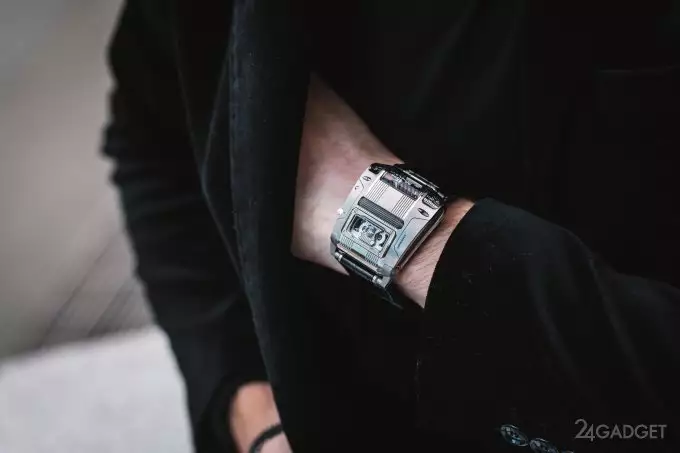 Urwerk always produces amazing movements, and its latest wristwatch UR111C is extremely interesting. Designed by the co-founders Felix Baumgartner and Martin Frey, the self-winding UR111C does everything possible to undermine the traditional form of the watch, including the analog / digital dial, which is located on the side of the case, and not in the usual place.
Urwerk chose a steel or bronze case for the UR-111C. As for the time setting, on the side of the case there is a lever that engages the mechanism, which is adjusted by turning the roller back and forth. As already mentioned, the screen is located in the lower side so that you can see the time without turning your wrist. There are three sections here, the side sections are used for hours and minutes, while the center section will also show minutes in a linear diagonal format.
On the front panel, where the dial is traditionally located, there is a window with seconds, which are shown by two wheels in increments of 5 and 10 seconds. In addition, a fiber optic window was installed to increase visibility. The mechanism operates under an automatic caliber (4 Hz – 37 units) with a power reserve of 48 hours. The cylinder is made of anodized aluminum, and the second of nickel, processed in LIGA. All this is sealed inside a 42 mm metal case with an anti-reflective sapphire crystal. It is waterproof up to 3 ATM (30 m). The UR-111C is available in a limited edition of 25 pieces in polished steel and 25 in bronze for $ 134,000.