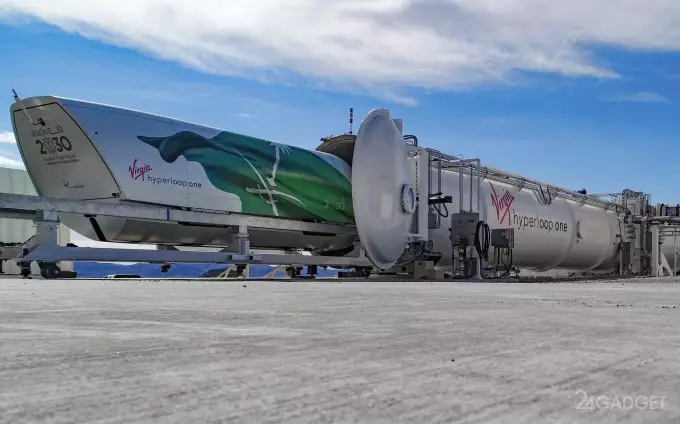 Virgin Hyperloop One released the story from the first tests of its full-blown prototype Vision 2030 Hyperloop Pod supercar in the Mojave Desert of California. The trip was watched by the Minister of Defense of Saudi Arabia, Crown Prince Mohammed Ibn Salman Al Saud.
Only a month and a half ago, the manufacturer showed the layout of the interior solution for its own capsule for the Hyperloop high-speed vacuum railway system, and the first sample was already tested at the Virgin Galactic test site in the Mojave Desert. According to company representatives, the United Arab Emirates and Saudi Arabia are priority states for starting a pilot project. It is here that in the middle of deserts you need to overcome huge distances between settlements, which means that hyperloop hyper-speed is simply necessary. And both states, which have good income from oil sales, can become excellent investors.
Virgin promised not to disappoint potential partners. For example, a trip from the capital of Saudi Arabia, Riyadh, to the capital of the UAE, Abu Dhabi, will require 48 minutes instead of the current 8.5 hours. Plans, of course, are Napoleonic. In December 2017, Virgin Hyperloop One was able to accelerate the test capsule to 387 kilometers per hour, which is approximately 1/3 of the planned speed of the vacuum railway transport system. Currently, the company has already signed cooperation agreements with the governments of several countries. Recall that Transport Technologies and Hyperloop One are working on similar projects for high-speed vacuum trains.