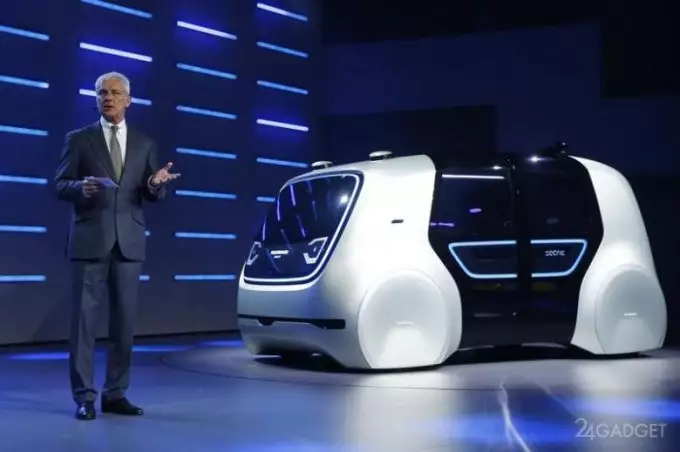 The automotive giant Volkswagen introduced the conceptual model of the car of the future, called the Sedric (abbreviation for self-driving car). The self-propelled, fully automated unit is designed with the complete absence of traditional control and navigation systems – pedals and steering gear. Driving a car running on electricity comes down to pressing buttons on a special remote control.
Despite the somewhat unusual appearance (the car has already received the playful nickname "drunk toaster"), the robotic electric car is positioned as a "friend" of the family, an assistant in all pressing matters. Thus, the automaker is hinting that Sedric should become something of a mechanized pet, which is also useful in the household. Designers even envisioned the ability of the car to wink headlights imitating the eyes located on the front bumper.
Electric robot control is simple and convenient. A small keychain with a button is used, when pressed, Cedric is called to the desired location. The owner is notified of the arrival time of the car at the place, and upon arrival at the keychain, sound and vibration signals are transmitted. During the trip, the car is controlled by voice commands, and upon arrival at the place, a signal is transmitted to the key fob that changes the color of the button, which confirms the completion of the trip.
The four-seater electric car Sedric has developed a number of original ideas from Volkswagen Engineering, which will later form the basis for the conceptual design of the concern. It is likely that the futuristic prototype will become a real robotic car, carrying out transportation in the high-tech Moia taxi service.