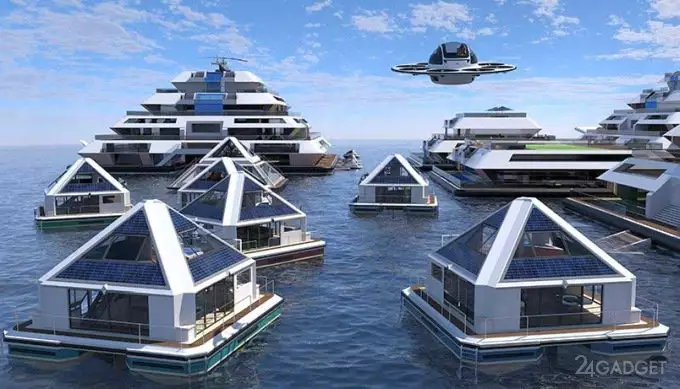 Lazzarini Design Studio, an architectural company from Italy, developed the concept floating city Wayaland. They want to build a unique settlement of fiberglass, carbon and steel off the coast of Italy or the United Arab Emirates, and buildings similar to pyramids will operate in it on solar energy.
The project is still at an early stage of development. This month, a crowdfunding campaign has begun to erect the first pyramid. It takes 420 thousand dollars. In total, the city will consist of a couple of dozens of floating pyramids. Ten pieces will be equipped for residential buildings, three of them will make hotels with 20 beds, and two more – restaurants. The authors of the project have not yet decided what will be done with the remaining pyramids, but there may appear entertainment centers, cinemas, shops, offices, restaurants and bars. The height of the largest pyramid will be thirty meters, it will have 10 floors. Its total area will reach 6698 square meters.
How many pyramids will cost, Lazzarini Design Studio has not yet decided. However, according to the project, the pyramids will be modular, and therefore the owner will be able to choose from which parts and, therefore, floors, his unique water building will consist.