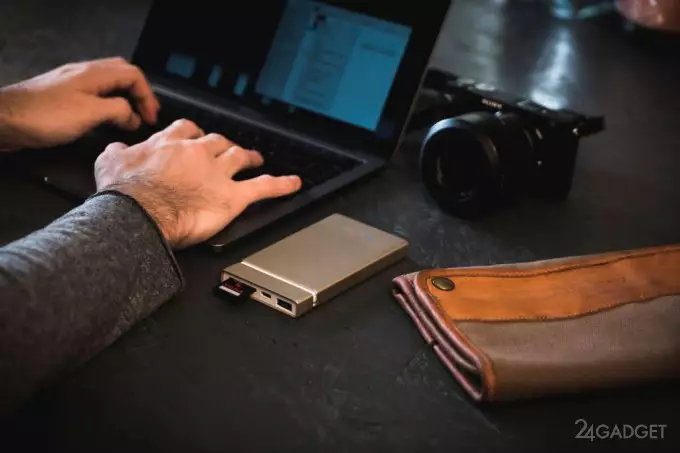 Smartphones have major problems: a battery that discharges at the wrong time, and memory that is always lacking. You can solve them in many ways, however, the authors of the Gospace gadget have come up with a universal recipe.
In a stylish device that looks like an external battery, the design is minimalistic. The gadget is equipped with a slot for SD-cards with a capacity of up to 1 TB, as well as a Wi-Fi module that supports the standard version 802.11ac. Gospace is able to deploy a wireless network that allows 8 mobile gadgets to download files in parallel, downloading them to a memory card. This achieves speeds up to 867 Mbps. If necessary, the device will also act as a hub, expanding Wi-Fi network coverage. Gospace has a proprietary application that allows you to connect synchronization with Google Drive and Dropbox. Thanks to this, even if there is no network connection, information in cloud storages remains available.
To copy files to a card, the device will need to be connected to the PC via the USB-C and USB-A ports located on the front edge. Then the speed with which information is transmitted reaches 10 Gbit / s. Another gadget has a built-in battery with a capacity of 5500 mAh. This energy is enough even to share with a tablet or smartphone. Parallel charging of a pair of devices is possible – one through the cable and the second through the induction module of the Qi version.
You can order Gospace on Kickstarter for $ 69. You can choose one of two colors: golden or black. Sending orders will begin in May.