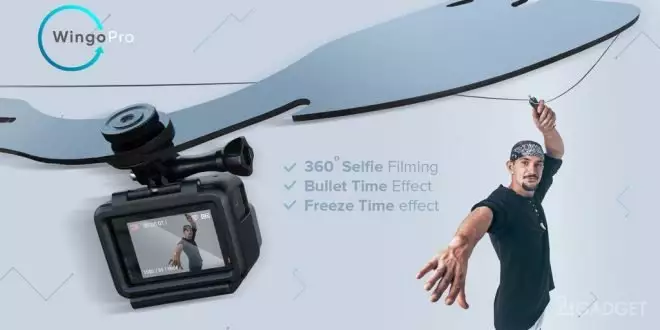 Since the craving for selfies burst into our lives, developers of accessories for gadgets have gained more work, and their fantasies are sometimes embodied in very original and even funny inventions.
Imagine a boomerang on a rope where you can attach an action camera. When you rotate this wing similarity around you, you can take a panoramic selfie with a view of 160 ° or 360 °. This is Wingo Pro.
If you want to give your photos a game philosophy over time, then this invention is for you. With it, you can shoot a frame in the style of Neo, which dodges bullets. And by rotating this boomerang with a camera, we get a short video in which the action at your request can freeze or slow down very much, as the participants in the photo shoot demonstrate. Another interesting find is the so-called "freezing" effect of time.
And just by rotating the boomerang wing around you, you can take a selfie at 360 ° degrees. Of course, with this algorithm for performing the photo process, you will definitely have your hand raised.
The universal mount allows you to combine a boomerang with almost any action camera. The product is made of polycarbonate, it is very compact and is easily folded into a bundle.
The cost of new items on Kickstarter is $ 45. When entering the market, Wingo Pro will cost $ 75.